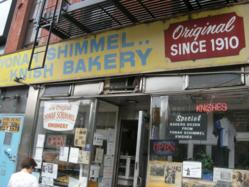 It's the quintessential New York neighborhood where you can find virtually the entire history of the city.
New York, NY (PRWEB) May 30, 2013
New York City Tour Company Urban Adventures has launched their first new tour since being taken over by Urban Oyster this past March. For their newest tour Urban Adventures chose the Lower East Side of New York and created a tour called "Tenements, Tales, and Tastes" On the Tenements, Tales, and Tastes tour guests will experience the story of the millions of immigrants who lived on the Lower East Side and taste several delicious dishes of the many groups that have lived there. An expert local guide will lead guests through the narrow, tenement lined, streets of an area known by names like Kleindeutschland, Chinatown, and Loisaida. These neighborhoods currently boast bustling marketplaces, 100-year-old bakeries, churches, markets, and numerous historic sites. "It's the quintessential New York neighborhood where you can find virtually the entire history of the city," boasts Urban Oyster owner, David Naczycz.
Over the last few months David and his colleagues have been uncovering the best Lower East Side food spots, researching and perfecting historical details and tasting many a stroopwafel, a tasty treat from the Netherlands as the Dutch were the first European immigrants to New York. Urban Adventures tours also support local communities by frequenting only local shops in small-personalized groups. .
David Naczycz, owner of Urban Oyster took over the NYC operation of Urban Adventures this spring after Urban Adventures sought out a locally based operator for their New York tours. Urban Oyster's reputation for ultra local tours was what attracted them the most. David, a history buff and lover of all things local, is no stranger to authentic walking food and drink tours. Urban Oyster was founded on the belief that, like oysters, the neighborhoods of New York are treasured resources that require nurturing and cultivation in order to survive and flourish. Through dynamic hands-on tour and event experiences, Urban Oyster tours connect people to the local treasures of New York City, and in doing so, promote an appreciation for the uniqueness of NYC neighborhoods. The Tours and Events Urban Oyster produces, explore how people can live in neighborhoods today in ways that support and value local production and consumption, cultural diversity, historic preservation, and sustainability for the benefit of generations to come. Most recently TripAdvisor recognized Urban Oyster Tours with a 2013 Certificate of Excellence. It is given to businesses that consistently earn high ratings from TripAdvisor travelers.
The "Tenements, Tales, and Tastes" is a 3 hour tour that runs 7 days a week starting at 10am. Tickets are now on sale and cost $65/person. Schedule and detailed tour information can be found at: http://www.newyorkcityurbanadventures.com/
About Urban Adventures:
Urban Adventures Limited is a franchised based global network of local tour operators specializing in providing high quality experiential tour and activity services, which are then marketed worldwide to local customers. Urban Adventures is collaboration between leading adventure tour operator, Intrepid Travel and WHIL Group, the biggest local travel company in the world. It relies on a combination of Intrepid Travel's experience in designing and running the world's best experiential trips; plus WHL Group's whl.travel network of local operators and the technology to run excellent tours that have a positive impact on local communities and environments.