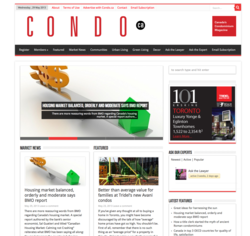 Everybody agrees that we have to do something, fast, to solve the gridlock problem in Toronto. By some estimates it costs the city and the region $6 billion a year in lost productivity.
Toronto, ON (PRWEB) May 29, 2013
In this week's Condo.ca, the condominium magazine reports on how one of Canada's big banks assesses the current state of the real estate market, and its conclusions are mainly very positive—calming, not crashing, as the bank's report puts it. All those condos going up in Toronto? Most of them are sold before construction. And the home builders of Ontario weigh in on new tolls and taxes proposed to fund the region's big transit plans.
"Housing market balanced, orderly and moderate, says BMO report"
There have been plenty of predictions in the media that the real estate market is about to crash, but Canada's big banks are having none of it. The signs just aren't there. Sales have fallen from last year's levels, but last year they were exceptionally high, and today's sales are just 3 per cent below the long-term average. As for the supposedly overheated condo market in Toronto, population growth, the entry of echo boomers into the first-time buyers market, and the demand for rental accommodation should continue to support it with little difficulty. Read more at . . .
"Ontario's home builders unimpressed by Metrolinx revenue tools"
Everybody agrees that we have to do something, fast, to solve the gridlock problem in Toronto. By some estimates it costs the city and the region $6 billion a year in lost productivity. Now the agency responsible for transit, after much public consultation and debate, has tabled its proposals for raising the billions of dollars needed to finance transit expansion and improvement. Their proposals, which they call "revenue tools" but critics call taxes, aren't going down well with Ontario's home builders, who say they are not fair to new home buyers. Read more . . .
"How an obscure title clerk started the myth of ancient Roman condominiums"
On a lighter note, Condo.ca looks at a long-lived myth about condominiums that has a surprising origin. It seems that in 1961 a title clerk in a Chicago office got the notion that since the word condominium looked Latin, it must have been a Roman idea. Well, his idea was published and repeated over and over again until it became the accepted wisdom. Except that a certain law professor wasn't convinced and started looking a little deeper. He made a surprising discovery about just where this idea of co-ownership of property originated. Read more . .
About Condo.ca
Condoa.ca is all about living and lifestyle. Thousands of subscribers and readers rely on Condo.ca's in-depth coverage of the condominium scene and urban living each week. Condo.ca is committed to following and discussing the trends: urban lifestyle, design and neighborhoods, with a special focus on inspiration. Our daily news beats include:

Market News: daily news with a focus on real estate, finance and the marketplace.
Green Living: environment-friendly stories, latest technologies, and tips and how tos.
Urban Living: features on the downtown scene.
Decor and Design: interior design tips, how-tos and features
Communities and Condominiums: our coverage of new communities coming into the market.
Great Toronto Scene: special coverage of the GTA scene.
Ask the Expert: you ask your questions, related to condos, we try to find an expert to answer you.
Ask the Lawyer: you ask your legal-oriented questions, we try to find a lawyer to answer.
Ask the Designer: Stella Salvadore, interior designer, answers your design questions (please be sure to post pictures!)
Condo.ca is published by Zines Online and Tridel, a service of Persona Corp.