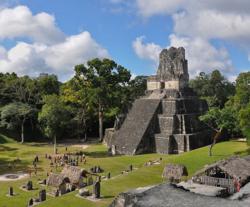 Many are looking outside the box for ways to live more holistically. Ancient wisdom that honors and works with cycles of nature and time are an attractive alternative in a stressed-out age.
Austin, Texas (PRWEB) May 30, 2013
In an age of hectic schedules and information overload, many are turning to ancient spiritual practices to restore balance to their lives.
"Technology is changing our lifestyles so quickly, people are struggling to keep pace," says Austin, Texas, astrologer Donna Woodwell, host of the internet radio show Dead Astrologers Society. "Habitual solutions are no longer working. Many are looking outside the box for ways to live more holistically. Ancient wisdom that honors and works with cycles of nature and time that are incorporated in such practices as the Mayan calendar, astrology and shamanism are an attractive alternative in a stressed-out age."
Dead Astrologers Society guests Carlos Cedillo and Benjamin Bernstein explain how these ancient practices are used today.
"As a Daykeeper, the Sacred calendar is my main "tool" for helping people bring harmony to their lives," says Carlos Cedillo, a musician and a Mayan Daykeeper. "By seeing that events in life are not chaotic, but rather natural expressions of the times, we can dispel fears of the unknown and resolve internal conflicts and bring peace to all our relations."
A Daykeeper, also called a Sun Priest by the Maya, uses the Mayan sacred calendar to help people navigate the challenges in their lives.
"Time itself is subject to the same natural laws as any other phenomena we see around us. So just as all animals and plants grow according to the DNA in their seed, so also, time unfolds in patterns predetermined by the same Cosmic blueprint," says Cedillo
"The Maya used their understanding of the patterns of time – their calendar -- to study and predict motions of the stars, not the other way around. Most other cultures first looked at the stars to determine their calendars," says Cedillo. "The Mayan calendar is more like a fractal mathematical formula that all of Mother Nature follows."
Astrologer and Shaman Benjamin Bernstein also connects with natural forces to help clients find balance in their lives.
"An astrological chart for the moment a person is born is like their soul's cosmic blueprint. The more we live in harmony with this blueprint, the more wonderful and fulfilling life becomes," says Bernstein. "Astrology helps my clients to understand themselves better, fine-tune their life directions, and be better prepared for life's important challenges and opportunities."
"Shamanism, which could be thought of as humanity's original global religion, is common to indigenous cultures worldwide. The word 'shaman' commonly refers to any practitioner who moves into altered states of consciousness to interact with the spirit world," says Bernstein.
"A shaman embarks on these visionary journeys to heal individual or societal imbalances. In my practice, I use shamanic techniques to communicate directly with the living intelligence of a client's planets, reorienting them for more harmonious life expression. "
The Dead Astrologers Society airs live Thursdays at 7 p.m. Eastern/4 p.m. Pacific on the ParaMania Radio Network. The show is also available on demand via iTunes.
"Our guests on the Dead Astrologers Society explore the myriad ways star wisdom has fired our imaginations over the centuries," says Woodwell. "From the ancient Babylonians and Greeks, from China to Central America, from the Renaissance to today, we continue to look up in wonder, yearning for connection and meaning."
ParaMania Radio was founded in 2011 by Jenny Stewart and David Erickson. "We wanted a place that offered diversity in a positive place for anyone who seeks knowledge of anything metaphysically based," says Stewart. "Our motto has always been 'Shining the light on the Paranormal' and we're pleased to see our vision made manifest."
###
Change-catalyst Donna Woodwell lives in Austin, Texas. An astrologer, hypnotist and writer, she works with clients to creatively navigate life's transitions. Owner of Four Moons Astrology, she serves on the board of the International Society for Astrological Research and as an instructor at Kepler College. Her blog La Vita Luna: Living Gracefully in a Changing World is featured on Astrology.com.