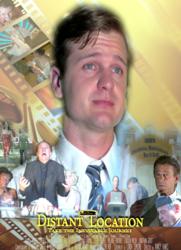 ...I realized that Nancy had half-jokingly called for help to wipe her big 'puddle' of tears that had dangerously accumulated near all the camera wires. ... She was afraid that the water could have damaged her equipment...
Los Angeles, CA (PRWEB) May 31, 2013
"Distant Location" is a feature film (currently in post-production) about a young actor caught up in a tragic accident who has a near-death experience and discovers that Heaven is run by Humphrey Bogart. It focuses on Hollywood actors who have passed away, as well as on death, dying, and having to come back regardless of one's attachments in the other-world.
Luciana Lagana and Gregory Graham played supporting roles, Luciana as Edith Monroe, the mother of the lead, and Gregory as Ted Hammer. This movie was produced by Nancy Hanks, Rachel Arno, Linda Simeone, and Susan Upperco, the women behind the dollHouse Production. "We intend to produce many more features with Luciana, Gregory, and the talented cast of this movie," Nancy points out.
"I was writing my latest screenplay on set waiting for Luciana to finish shooting one day, when Nancy pointed out to me that she had not heard back from an actor and asked me if I wanted the role of Ted Hammer. I was happy to accept; I guess I was in the right place at the right time," Gregory muses.
This entertaining and moving film is not only a love letter to old Hollywood, but a thought-provoking commentary on the subject of near-death experience. Twenty-four amazing actors dedicated their time and talent to making this happen. "But more important are the groundbreaking themes we choose, which are meant to change the world one person at a time. Visual storytelling is the only way to accomplish this," Nancy states. She is a USC Cinematic arts graduate and can be reached at nehanks(at)yahoo(dot)com. "We have already produced over 30 shorts, which can be seen on YouTube. They are also currently playing on two San Francisco cable channels during the children's hour on Saturdays. Our latest project, Distant Location, was produced on a very small budget. We still do not have all the funds to complete post-production, but are staying optimistic. Once it is ready, we will start submitting it to film festivals and shopping it around for distribution," she points out.
"It would be nice to know that there is an after-life where you can see all your family, friends, and famous people whom you admired," comments Sue, one of the producers.
"It is a thought-provoking movie, because most people wonder about death and what happens when we die. This movie takes you where very few people have been, on a journey with someone who passed back and forth through the different dimensions," adds Rachel, another producer.
"It is part drama, part fantasy, and it was a lot of fun to work on it. I am privileged to work with someone as talented as Nancy," states Linda, the writer-producer of the group.
The lead actor, Andrew Campbell, played the character of a charming and sensitive young man, Sean Caine. "Nancy chose me as the lead, and I was at her call-backs to test my chemistry with my potential mother in the movie," Andrew recalls. "Luciana and I had and instantaneous chemistry as mother and son. At the end of the call-backs, I told production 'if you want the best performance, you should cast Luciana.' I am glad that they went with her."
"When we were shooting my call-back, Nancy had to stop shooting in the middle of it. She called for help. I was so much into the scene that I did not know what was going on with her, with Sean being alive in my after-world, but being more and more dead to the terrestrial world. As a mother, I was very upset about it and wanted him to go back to living his life," Luciana adds. Why was Nancy shouting out? "When I calmed down from being upset about my son, I realized that Nancy had half-jokingly called for help to wipe her big 'puddle' of tears that had dangerously accumulated near all the camera wires. I guess she was afraid that the water could have damaged her equipment… Throughout the movie, Sean was searching for me in the after-life, and we finally reunited for a short time, but as a caring mother I had to motivate him to leave me and go back where he belonged, among the living," Luciana comments.
The main topic of this movie is familiar to Luciana, who teaches at California State University Northridge, where she also conducts federally funded research on older adults. She admires this group of older women for their determination to contribute their creativity to making movies that tackle difficult issues. "Death and dying are typically considered taboo topics, even when the person dying is old. In case this person is young, death is so much more disconcerting and hard to come to terms with. So, a movie about these topics is certainly interesting," she points out. "Also, especially being from Italy, I can relate to the pain of an over-protective mother (which is the way I felt when playing the mother's character, even though I had to appear strong) who has to turn her child away because she knows that his life is elsewhere. This is what happened to my own mother, who encouraged me to move to the United States and pursue my dreams, even though I was her only child and she was widowed. Her decision to support me in my move to the U.S. was not understood by a lot of our Italian family members and friends. It worked out great at the end, and I am now able to play parts like this one and feel like my mother might have felt when it was time for me to leave Italy. This was certainly an emotional experience that was very close to home (in more ways than one) for me," Luciana concludes.
Written by Marcia Bell, Publicist
Luciana Lagana is a caring clinical psychologist and an established professor of psychology, gerontology, and sexuality at California State University Northridge (CSUN), where she teaches classes and mentors many students. At CSUN, she also conducts government-funded research on ethnically diverse, primarily low-income older women's physical, psychological, social, and sexual health. Additionally, Luciana is an award-winning actress/screenwriter and has 28 IMDb credits for acting in many independent movies and TV series since 2006. Gregory Graham, her husband, is a businessman, an award-winning screenwriter, and has been an actor since 2000. He has 39 IMDb credits and has acted in many movies as well as TV series such as "CSI Miami" and "Trust Me."