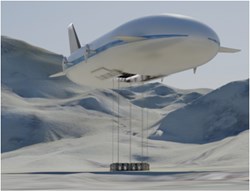 "As an advanced hybrid airship, the Aeroscraft will revolutionize transportation logistics, especially when moving oversized and heavy project cargos,"
Los Angeles, CA (PRWEB) May 31, 2013
Worldwide Aeros Corp. (Aeros) will be in Europe this June exhibiting at two key aviation conferences, with Aeros' CEO Igor Pasternak attending, chief engineer of the Aeroscraft. The business development team from Aeros will join members from the air cargo transportation and general aviation communities in Munich and Paris to address recent development milestones, as well as the future direction of the Aeroscraft heavy airlift fleet.
"As an advanced hybrid airship, the Aeroscraft will revolutionize transportation logistics, especially when moving oversized and heavy project cargos," explains Pasternak, adding, "The Aeroscraft can gain direct access to remote areas without existing infrastructure and eliminate costly intermodal changes, thus introducing game-changing opportunities to equipment-dependent mega-projects and numerous multi-billion dollar commercial industries including energy, clean energy, aerospace, mining, and engineering, among others."
The Aeroscraft is able to compress inert helium for in-flight ballasting using a patent-pending control of static heaviness (COSH) buoyancy management system. This enables true vertical takeoff and landing flight without the external ballast exchange required by other LTA vehicles. By being able to control the vehicle's heaviness, the Aeroscraft has eliminated the need for existing infrastructure and ground personnel from the equation, which has opened a new era for cargo mobility around the world.
The Aeroscraft will deliver oversized cargos with precision utilizing a massive payload bay measuring (220'x40'x30') for the 66-ton cargo payload ML866, and measuring (380'x61'x45') for the 250-ton cargo payload ML868 variant.
The Aeroscraft will be a logistics solution to companies and governments around the world for its ability to handle cargo without the need for runways, at weights, volumes and distances the helicopter cannot, and with fuel economy neither fixed wing nor rotary aircraft can provide. Since the Aeroscraft does not require runways, airports or ground crew support, it expands the potential of commercial cargo transport, military applications, and large-scale humanitarian relief efforts, and will one day soon let soar a new wing in commercial aviation. Learn more about the most effective vertical-takeoff-and-landing (VTOL) cargo transport aircraft in the world at http://www.aeroscraft.com
Transport Logistics is the world's biggest trade fair for the multi-facetted industry of moving goods by road, rail, water and air; learn more at http://www.transportlogistic.de/en. The Aeros business development team will be in Hall A4; Booth 124. The Paris Air Show is the world's premier and largest event dedicated to the aviation and space industry; learn more about the 50th International Show at http://www.paris-air-show.com/. The Aeros team will be located at 6-B30.
Media interested in arranging interviews should contact media(at)aeroscraft(dot)com, or PR via the contact information below.
About Aeroscraft: An Aeroscraft is a new type of Rigid Variable Buoyancy Air Vehicle, designed to control lift in all stages of air or ground operations, including the ability to off-load heavy payloads without the need to re-ballast. For the first time in history, an aircraft has been designed to control and adjust buoyant and dynamic lift, creating a new paradigm for air transportation and logistics. Poised to enhance the air transportation industry, the Aeroscraft will deliver opportunities for business and consumers globally by access to remote locations and by new cargo delivery capabilities. The key features of the Aeroscraft include a rigid structure, vertical takeoff and landing, and operational abilities at low speed, in hover, and from unprepared surfaces.
About Worldwide Aeros Corp. (Aeros): In 1987 Igor Pasternak founded Aeros and advanced the company from a small advertising aerostat production manufacturer in the Ukraine to a premier airship producer and R&D firm for the aerospace industry based in the United States. Through their exceptional manufacturing quality, Aeros has achieved multiple FAA airship type certificates and operates with an FAA Production Certificate. Throughout the years, Aeros has become a premier airship producer and research and development firm for the aerospace industry for a commitment to quality engineering, production and client satisfaction. Aeros currently boasts an extraordinary product line that includes the most advanced airships and tethered aerostats utilized in commercial and government applications throughout the world. For the past quarter century, Aeros has pioneered new product advancements in the aerospace defense technology sector, which has been a strong contributing factor in maintaining continuous corporate growth. The entire Aeros organization and the advisory board, comprised of military and commercial leaders, are dedicated to one goal of harnessing the exciting future and opportunities ahead. All Aeros team members are focused on meeting the rapidly rising demand for oversized cargo transportation solutions.