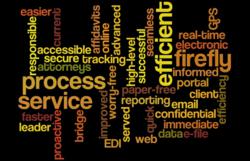 It's important for us to be efficient, proactive and to keep pace with current technologies."
Mokena, IL (PRWEB) May 31, 2013
From monitoring and tracking to reporting and filing, Firefly Legal, a leading associate legal services and process service company headquartered in Mokena, IL uses the latest technology to work smarter for clients. The goal: to provide a seamless, informed and worry-free customer service experience from start to finish, every time.
Here are seven ways Firefly is harnessing technology to provide a high-level customer experience and lead the way for advancements and improvements in the process service industry.
1. Process Server GPS Routing
Introduced just this week, Firefly's new GPS Routing feature simplifies the navigation process and determines the most efficient way to get papers served after servers have selected a job. The system uses servers' current locations to determine the best routes and provide turn by turn directions—saving servers time from trying to find addresses and eliminating the task of routing out their day.
"This optional feature is intended to make servers' jobs easier and to keep the focus where it belongs: on getting papers served," said Clifton Dillman, CIO at Firefly. "We still give our servers autonomy over their jobs, but this is a means to ensure efficiency. More papers served in a day means our clients are getting their documents back faster."
2. Paperless Office
Legal firms and courthouses are increasingly moving toward paper-free operations, and Firefly has been a leader in the process service industry in this regard. Scanned dockets mean faster processing and timely distribution to process servers. E-documents also allow clients immediate access to copies of Return of Services and invoices.
"It's important for to us to be efficient, proactive and to keep pace with current technologies," said Matt Massa, Vice President of Firefly. "With electronic documents we have seen increased efficiency in the office and it's an environmentally responsible shift. The reduction of manual data entry also means less room for error."
3. Document Transfers
To speed up processing including invoicing, return of service copies and other requested documents, Firefly offers document transfers. In lieu of transfers, clients may access case information 24/7 via Firefly's online management portal where settings can be customized to client preference and documents retrieved as Tiff or PDF files. Clients may also view estimated fees, file and defendant level info on the website.
4. Data Transfers
Firefly offers client data transfers including: file level transfers, real-time defendant level transfers, vendor found addresses and fee line items. For clients not equipped to receive data transfers, Firefly provides file level and defendant level updates and statements via email.
5. Proprietary Process Server Tracking
While process servers are out serving papers, Firefly's Proprietary Process Server Tracking system logs the GPS coordinates and time of all service attempts. In addition to GPS photos, Firefly provides real-time updates on all attempts and service that are viewable by data transfer or on the client web portal.
6. E-file
By accepting e-filed cases for quick processing, Firefly eliminates the need for clients to make copies and as a nationwide company can route work automatically to offices across the country. Clients also have the ability to auto cancel remaining defendants in our system to ensure they are never charged for jobs they shouldn't have to pay for.
7. Companywide Learning Management System
All Firefly personnel are trained with a companywide Learning Management System that features video trainings and testing to ensure only the most knowledgeable staff are working on client files. Firefly is also SOC 1 compliant—a guarantee that client files are handled with top security and confidentiality.
To learn more about Firefly Legal, check out fireflylegal.com and stay in the loop by joining their online communities on Facebook and Twitter.
About Firefly Legal:
Headquartered in Mokena, Illinois, Firefly Legal is a national associate legal services company specializing in process serving, skip traces, court filing, document retrieval, and loss mitigation. Be sure to check out Fireflylegal.com for more information.