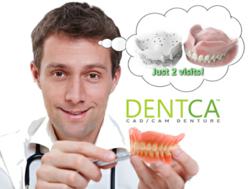 Los Angeles, California (PRWEB) May 31, 2013
DENTCA, Inc., the worldwide leader in 3D denture design and production, will be exhibiting new CAD/CAM denture modeling/processing capabilities at the Florida National Dental Convention (FDNC) Annual Meeting in Kissimmee, FL from June 13-15, and the Academy of General Dentistry (AGD) 2013 Annual Meeting in Nashville, TN from June 27-29, 2013.
DENTCA will be exhibiting at:
•Booth #1215 at the FNDC Annual Meeting, Kissimee, FL (June 13-15)
•Booth #806 at the AGD Annual Meeting, Nashville, TN (June 27-29)
Dentists who wish to use this state-of-the-art 3D CAD/CAM Denture technology to provide 100% accurate, high-quality dentures are encouraged to visit the DENTCA booth to view a hands-on demonstration of the DENTCA system. The DENTCA system is easy to learn, and makes the entire denture process super-convenient and highly improved from beginning to end. Additionally, no hardware or software is required by doctors to take full advantage of DENTCA's time-saving, quality-enhancing denture procedure. Doctors who use DENTCA's specialized tray system to capture the first and only impression needed, can also use the same trays to capture the vertical dimension (VD) and centric relation (CR) in the same patient visit. With this procedure, final dentures can be provided with less than one hour of total chairtime needed with the patient.
DENTCA's highest priority is to ensure timely delivery of high quality dentures and providing customized support through all stages of the process. DENTCA provides chairside assistance, online training resources, live seminars, hands-on training, and around-the-clock customer support to ensure final dentures are delivered in the shortest time without sacrificing quality. In fact, after being in the market for a little over a year, DENTCA's system is widely recognized by dentists, academic leaders, and other dental professionals as providing significantly higher quality dentures compared to conventional, hand-made devices with unsurpassed accuracy and convenience.
As the baby boomer population continues to grow, the population of edentulous patients continues to grow each day, month, and year. There are many reasons that people need dentures: loss of all their natural teeth, whether from gum disease, tooth decay or injury, the need to restore the smile and to fill out the appearance of the face and profile. Dentures can solve these problems by providing patients with a natural appearance, a bright, aesthetic smile, and a vastly improved lifestyle with newfound capacity to eat, speak, and smile with great comfort and confidence.
While conventional denture procedures are very time-consuming and require multiple visits with the patient and lab to deliver less than accurate dentures, DENTCA's digital system requires less than one hour of chairtime to ensure the most accurate dentures are available in just five working days. As every dentist, patient, and family member knows, enabling edentulous patients to receive dentures in 2 weeks or less is a significant benefit to the patient and denture provider.
Contact your DENTCA representative today to find out more about this revolutionary technology which enables more patients to receive exceptional dentures in the shortest time for maximum convenience.
About the DENTCA System:
DENTCA provides a wide range of denture products including standard and premium single arch dentures, complete dentures, and implant overdentures. DENTCA's try-in denture is also ideal for using as a surgical stent for implant overdenture cases. If doctors choose to receive a try-in before the final denture, they can adjust the try-in directly and take a new bite on it for any vertical dimension or bite adjustment. Final dentures are fabricated in five working days after receiving the try-in back, or directly from the impression if no try-in is requested.
DENTCA provides denture fabrication services to prosthodontists, general practice dentists, denturists, mobile dental networks, dental laboratories, government agencies, dental schools, and corporate health care networks. DENTCA's revolutionary technological breakthroughs are making digitally enhanced CAD/CAM dentures the industry standard at the forefront of denture processing.
About DENTCA:
DENTCA, Inc. (Los Angeles, California), the pioneer of CAD/CAM Denture Technology, produces high-quality dentures through computer-aided design (CAD), computer-aided manufacturing (CAM), proprietary 3D modeling, and scalable 3D printing technology. By introducing game-changing technology to dentistry, DENTCA received the Pride Institute's Best-of-Class Technology Award in 2012 -- the first denture company in history to receive this coveted award. DENTCA's patented tray system is designed to save significant time by enabling doctors to capture the impression, VD and CR in the same patient visit in less than one hour of chair time. With extensive patent protection, client relations, and dedication to R&D, DENTCA is committed to advancing modern dentistry with this state-of-the-art, revolutionary technology for years to come. DENTCA engages a dental prosthetics market which currently generates annual revenues of $2.36 Billion in the U.S. and $50 Billion worldwide.
Contact Information:
DENTCA, Inc.
3608 Griffith Avenue
Los Angeles, CA 90011
Tel: (323) 232-7505 | 855-4DENTCA | 855 433 6822
Fax: (323) 232-7504
E-mail: info(at)dentca(dot)com
URL: http://www.dentca.com
FB: http://www.facebook.com/dentcausa