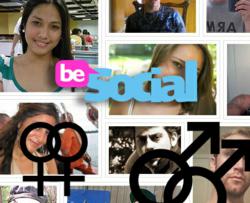 Now, finding someone of the same-sex either locally or abroad has become easier...
New York, NY (PRWEB) June 19, 2013
New search tools bring Same-Sex Relationships to BeSocial.com and make the casual online community more complete and in-touch with expectations.
BeSocial.com has just made it easier to search for same-sex matches! New search tools and features bring Same-Sex relationships to BeSocial.com as new singles utilize the updated profile options.
BeSocial, the casual dating site for couples looking for a date, a long-term relationship or simply friendship, now gives users the tools to seek out same-sex relationships with ease. Users can define exactly who or what they are looking for when they start or at any time with just a few clicks.
Prior to this recent update on BeSocial, individuals seeking Same-Sex relationships found it difficult to target profiles suited to their needs. Now, finding someone of the same-sex either locally or abroad has become easier and with the same level of casual fun BeSocial users have come to expect.
"Members of the dating community asked, we heard the call and always strive to provide them with the tools and options they ask for," says BeSocial Program Manager, Darrell Rosebush. "Accommodating for same-sex searches and matching is only part of the BeSocial update and re-branding effort," he continued.
More and more profile options will become available to the BeSocial Community in the coming weeks but this most recent change is a progressive step that helps the site reach a broader and more varied audience. This addition gives more power to the users, the power to find exactly what or who they are looking for especially in a time when Same-Sex relationships and marriages are a hot-button topic.
Visit BeSocial.com and see the changes for yourself.