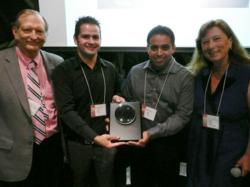 CAMEO initiated the Faces award to celebrate the true job creators - the small businesses that build sustainable communities and will be the growth engine of the 21st century economy.
San Francisco, CA (PRWEB) June 10, 2013
CAMEO is proud to announce the winners of the third annual CAMEO Face of Entrepreneurship Awards – Don Polvoron from Hayward and iResult from Monterey, two small businesses that created jobs in a less than ideal economic climate and represent the spectrum of entrepreneurship.
"CAMEO initiated the Faces award to celebrate the true job creators, - the small businesses that build sustainable communities," said Claudia Viek, C.E.O. of CAMEO. "These micro-businesses will be the growth engine of the 21st century economy."
In 2005 Jorge Flores sold his house and used part of the proceeds to start Don Polvoron Bakery with his brother Oscar. The first two years were really hard - waking at 3:00 a.m., arriving home late and not making much profit. Jorge told his wife, there will be good times and bad times.
Jorge's main philosophy is to give customers what they want, which has helped the business grow from a bakery that served coffee starting at 5:00 a.m. to a specialty cakery. Jorge says, "Special things that you can do for people is what makes it better. It's easy to say no, but this is how you gain customers." Like turning around a quinceañera cake for 300 people in less than two days for a customer whose original cake-maker flaked.
The bakery employs seven people, the cake business is thriving, and they want to expand. Now is a good time for the Flores brothers.
Dawn Verdick and Niña Magsaysay Rosete wanted to use their corporate experience to improve the world. Their first effort is lowering the high school dropout rate and giving every young person the chance to attend college. iResult was born to provide school leaders with meaningful data to turn schools around and raise money for programs that yield results.
iResult's product is a software tool to help principals and administrators reach their goals. For example, a principal wants to limit persistent absences to 10%. The iResult dashboard shows if the goal is met or not so the principal can take appropriate action. iResult's beta-test in the Monterey Peninsula Unified School District yielded a $16 million dollar Federal School Improvement Grant for 3 schools, increased Academic Performance Index by an average of 40 points, and doubled the number of students attending college.
The company has grown from one employee and about $200,000 in revenue to four full-time employees, seven independent contractors and more than $1.0 million in revenue.
Both companies received business assistance from CAMEO members, a network of organizations that provide the necessary resources - capital, coaching and connection - to businesses to help them start and grow.
"I learned how to control finances, manage employees, how to treat customers better, etc…, " said Jorge Flores. "It was the best thing I did for the business." Jorge still attends classes, because "in business you never stop learning."
"These two companies are the tip of the iceberg," says Viek. "In 2011, CAMEO members like Renaissance Entrepreneurship Center and CSU, Monterey Bay's Small Business Development Center supported 21,000 businesses that created 37,000 jobs with business assistance and microloans."
Company Information:
CAMEO's mission is to grow a healthy, vibrant, thriving environment for all entrepreneurs and start-up businesses by advancing the work of our statewide member network – the over 160 organizations, agencies and individuals dedicated to furthering the growth of micro-businesses in California.