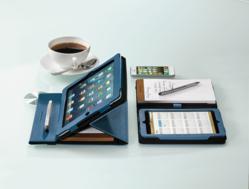 Delray Beach, FL (PRWEB) June 19, 2013
Levenger, a leading supplier of first-class tools for inspired productivity, is pleased to announce the new Levenger Affiliate Program. As part of the program, Levenger will provide affiliates with promotional assistance, management service, and a tiered commission structure.
Levenger is known for its plethora of products that are optimized for creative expression and designed to inspire professional excellence. In addition to accessories for books, tablets and e-readers, Levenger also sells fine pens, briefcases, messenger bags, planners, stationery, desk accessories, and innovative Digital Life tools. All of Levenger's products are designed to help their customers – from students to CEOs – stay productive, organized, and stylish.
Alongside their unique product selection, the Levenger Affiliate Program also offers features such as:

Banners, seasonal links, and other promotions
Average Sale Orders of $105
Tiered Commission Payout – starting at 7% up to 10%
45 Day Cookie Duration
Product Feed Available
Responsive Affiliate Manager
Monthly Affiliate Newsletter
Recently, Levenger was included in the 2013 Internet Retailer Top 500. By joining the Levenger Affiliate Program, new members can build upon that success and make a profit selling high-quality reading and writing tools.
A privately held organization, Levenger is a pioneer in selling products specifically with writers, thinkers, and achievers in mind. The husband-and-wife team of Steve and Lori Leveen founded Levenger in 1987, and it has since become a leading destination for reading and writing products that are both functional and fashionable.
Levenger's sales channels include a direct-to-consumer catalog; e-commerce sites of Levenger.com, LevengerPress.com and PenRefill.com; and stores in Boston, Chicago, and the Washington, D.C., area. Its business-to-business arm, Professional & Corporate Sales, reaches customers through both Web and catalog presentations. Levenger is headquartered in Delray Beach, Fla., and its customer service and fulfillment centers are located in Memphis, TN.