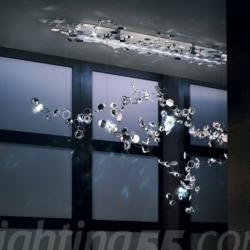 Crystalon chandelier - Brand new from Swarovski lighting
Tarpon Springs, FL (PRWEB) June 11, 2013
Lighting55, the biggest supplier of contemporary European lights in the U.S., is making headlines with the launch of their latest lighting collection from Swarovski. Each piece of lighting fixture is a work of art that combines the best of modern décor aesthetics and durability. Swarovski lighting is one of the most prestigious manufacturer of modern lighting gears and has compiled some of its finest pieces in this collection. There are suspension lamps, recessed outdoor lights, floor lamps, chandeliers, and ceiling lamps. Whether it's the master bedroom, the kitchen, bath, lounge, showroom or office, Swarovski lights are synonymous with ultimate quality and luxury. Modern lighting fixtures from Lighting55 are ideal for all modern décor settings and bring any architecture to life. Plus, the reliable customer services offered by the web store is the best in the industry. Hence, whether it's about modern outdoor lighting fixtures or stylish indoor ceiling lights, Lighting55 has the crowd on its feet with their new collection.
Among the many fine Swarovski light pieces, its suspension lamps are absolutely amazing. The Candella 12 Suspension Light SCA130 uses 10 LED lights to create the appearance of lush flowing light in the space below. It is available in three shades – black, white, and chrome – which polish a crystal frame. It is a cool, energy efficient light source. The suspension lamps from Swarovski lighting too are impossible to ignore. The Crystalon Medium Suspension Lights 57" is a delicate design with fused crystals. The asymmetrical DNA of the suspension lamp is available in two shades of white. The fixture uses 90 LED lights and introduces a realm of fantasy into the room.
Contemporary lights from this new collection also include surface mounted pendant lamps. The Atlas Select surface mounted pendant light is perfect for the dining space. It is also a pleasant light fixture for restaurants and bars. Crystals placed on the pendant ring make for a beautiful display. A single energy saving bulb is used in the fixture. Swarovski is famous for modern outdoor lighting also.
The newest collection has received an overwhelming response from customers. Ted Harris from Ohio is thrilled about the lamp's quality and appearance. "I had no idea that they would look so stunning. They arrived in perfect condition too." A similar response was obtained from New York resident Emma Johnson, "My living room renovation project needed lights that were exclusive and exquisite. I got them from Lighting55 and they are the best I've ever seen. Now my living room has a soft lighting look, which is simply stunning."
Lighting55 is a renowned stockist of modern European lights in the US. For the past 15 years, the company has supplied numerous superior quality lights to a large list of domestic and international customers. It is a specialist in indoor and outdoor lights and offers a wide range of light fixtures through its online store. They have been awarded the AAA rank by the Best Business Bureau, which is another reason why they are so trusted among their customers.