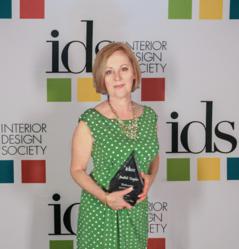 Toronto, Ontario (PRWEB) June 04, 2013
Join the Academy of Design in congratulating alumna Judith Taylor for being presented with a "Designer of the Year" award by The Interior Design Society. She is the first Canadian to win this prestigious award, which recognizes excellence in the categories of craftsmanship, creativity and innovation. She received her award at the Interior Design Society's annual national conference held during this year's Spring Furniture Market in High Point, North Carolina. High Point itself is a big name in interior design, known as the "heart and soul of the furniture industry in North America."
Judith Taylor came to be a successful designer by an unconventional route. A long time artist and surrounded by a successful family business in furniture manufacturing, Judith Taylor chose an unlikely career in IT as a mainframe computer programmer/analyst. Wanting to make a difference in people's lives and realizing an underestimated visual talent led her to a career overhaul and enrollment in the Academy of Design's Interior Design program. While at the Academy, she received High Honours for her student work.
The Interior Design Society made no mistake in recognizing the excellence in her submission. Judith Taylor's project came to fruition through the ravages of Hurricane Irene and an unfortunate nor'easter. A high-end condo in West Harwich, Cape Cod received severe roof damage and required extensive repairs that would preserve the value of the property while maintaining a relaxed, modern aesthetic. Judith Taylor's design ensured Cape Cod's beautiful, natural culture was reflected in the renovation at the same time avoiding tired nautical clichés.
As a designer dedicated to providing clients with design concepts that inspire, and impart a lasting and joyful connection with their home, Judith Taylor will continue to have a bright career. Attending the High Point Market in North Carolina inspired Judith Taylor with its showcase of new designs and has pointed her back to her heritage. Look out for a new furniture line drawing from her heritage with Krug Bros. in the future.
Judith Taylor's dedication to quality and Canadian design denote her worthiness of "Designer of the Year," and ensure future successes in the industry.
Since 1983, the Academy of Design has offered students a high-energy, hands-on and creative learning environment, mentored by faculty who are successful professionals in their fields.