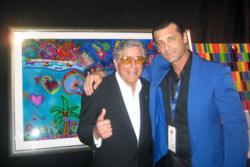 I'm on a mission...one cause at a time!
(PRWEB) June 04, 2013
Four Seasons, Las Vegas, has announced they'll be hosting a solo art exhibit showcasing a selection of original works by renowned artist/musician, JD Shultz, aka "Human Brother." The artist to the stars has hand selected a colorful array of his favorite pieces from his personal collection to be displayed at the luxury resort's Las Vegas location from June 13th - June 16th, 2013. It's a show you won't want to miss.
A true visionary, Shultz is known for his innovative use of acrylics on the reverse side of Plexiglas. Using this technique, JD creates rich vivacious images that tap into our most primal senses. His extensive musical background also lends itself beautifully to his work, resulting in life size pieces that capture the soul of rock-n'-roll. JD's collectors include celebrities such as Larry King, Ryan Seacrest, Dr. Drew Pinsky, Ric Ocasek and many more.
Philanthropy plays a huge role in JD's career as an artist. His life's mission is to help raise awareness for causes that are close to his heart. Keeping art and music in schools and at home for children are at the core of his philanthropic endeavors. "I believe that nourishing the brain with hands on creativity from a very young age only helps to shape a person in ways that can never be replicated," says Shultz. To date, JD has leveraged his talent as an artist to raise nearly $200K for charity, supporting organizations like The Grammy's/Musicares Foundation, Barbra Streisand's Women's Heart Disease Foundation, The American Heart Association, and The Art of Elysium to name just a few. "I believe that creative expression is a necessity to reaching one's true human potential in the world," he says, "and is the heart and soul of our planet earth."
When JD is not producing dazzling artwork, he's spending his time as an award winning producer/songwriter whose music has been featured on tastemaker radio stations like The world famous KROQ 106.7 and KCRW. In the music world, JD goes by the pseudonym, "Human Brother," and wears all musical hats. Being a producer/songwriter, multi-instrumentalist, recording engineer and mixer on all of his own songs, he puts other industry leaders to shame. His latest solo album, "Back To Music," is about to be released and the first video for the album, "Hailey's Rising," can be viewed here: http://youtu.be/XJec6bg1lsM. The video is directed and edited by the one and only JD Shultz.
Shultz's dedication to philanthropy coupled with his prodigious talent make him one of the art and music industry's biggest up-and-comers. He's making his creative mark on the world one great cause at a time and is quickly becoming a household name.
The upcoming Four Seasons exhibition is being generously sponsored by MGM Resorts International.
For more info please visit: http://www.jdshultz.com