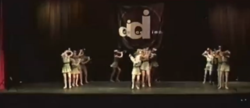 I work with my dancers day and night to ensure they're ready for the performance. In the end, they are fully prepared and proud of their efforts. You can see that through their consistent quality performances.
Newtown, PA (PRWEB) June 04, 2013
It all happens this year on Saturday, June 15th and Sunday, June 16th at the Central Bucks South High School stage, 1100 Folly Road in Warrington, PA.
You'll be mesmerized as spectacular young performers with unmatched precision bring the dance floor to life. From the graceful movements in the opening ballet to the energizing tap numbers that bring the house down—seriously folks—you might find yourself wondering if you've suddenly traveled to the Big Apple's theatre district to see such talented performers.
The recital starts off with "Pinocchia," a female ballet interpretation of the famed Italian children's story. Then, in Acts II and III, the dancers present a variety of impressive numbers displaying their outstanding tap, jazz, hip-hop, lyrical, vocal, ballet, and ensemble skills.
Don't miss out as tickets go quickly. Contact the school's main office and order your tickets in advance. Call Today: (215) 579-5678.
About the Studio
When it comes to the best Bucks County dance studio instruction, there's no better mentor than Ms. Debra Sparks. She raises the "barre" with her high standards and nurturing approach to produce the finest of dancers.
Did you know?
Throughout the year, Debra Sparks Dance Works hosts a variety of Master classes with guest choreographers from New York, Philadelphia, and Los Angeles. Check out the DSDW dance school video!
Debra Sparks Dance Works offers year-round dance classes, focusing on classical ballet as the primary foundation of training. Classes offered for students aged three to adult include:

Acro
Ballet—Classical
Ballet—Contemporary
Ballet—Pointe
Glee Club
Hip Hop
Jazz
Jazz—Competitive
Jazz—Funk
Jump & Turn
Lyrical
Modern
Musical Theatre
Pilates
Tap
Zumba
For tickets to the upcoming show or for more information about Debra Sparks, the DSDW studio, Master classes, Newtown, Bucks County dance classes, the area's best ballet and dance training, or for answers to general questions, please call the studio at (215) 579-5678.
Or visit the company's website.
Press release writing by WebSiteText, LLC