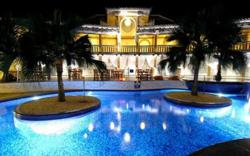 Miami, FL (PRWEB) June 01, 2013
When a 5-Star resort in Brazil, The Perola Buzios Hotel, wanted to street-cast real people for a commercial, they turned to Casting Partners to scour the area for the best talent to connect with local travelers and worldwide tourists.
The concept for the commercial included a cast of real people, enjoying the luxury of their stay in a truly unique and beautiful destination. The advertisers wanted realistic, authentic people that would allow consumers to imagine themselves at the resort and exploring Buzios. Rather than feature high-end models with stunning bodies and chiseled faces, they elected to follow a growing advertising trend by opting for "real people" that would be relatable to their target market. Though professional models will always have a secure place in the advertising world, an increasing number of top brands are choosing to showcase everyday people to engage their target consumers.Seeking a team with street casting expertise, they hired Casting Partners to fly to Brazil to cast on location.
Casting Partners team George Grafas, Benay Sinaikin and photographer Robert Keshishian spent several days with a local guide on the streets of Rio Di Janeiro and beaches of Buzios, finding and auditioning local people to be featured enjoying the luxury boutique resort and Buzios area. The casting of 25 talent included actual business travelers, typical families, newlyweds, retirees, adventurists and more, to be featured pool side, enjoying the spa, having a meal, and relaxing in their guest rooms. To showcase the area, talent were also featured sailing, surfing, snorkeling and walking along the famed Rua Das Pedras (Stone Street).
The Perola Hotel is a boutique 5-star resort located in the center of Buzios, a popular local tourist destination, but a somewhat undiscovered haven for international travelers. The hotel's marketing initiative aims to increase tourism from oversees to the area and will air in US, European and South American markets in Fall 2013.