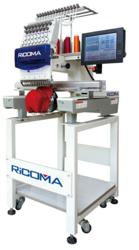 SEEING IS BELIEVING! Customers believe in our products because our reputation and quality!
Miami, FL (PRWEB) June 04, 2013
RiCOMA International Corporation recently launched its redesigned website, which makes it easier for customers to find information about RiCOMA's home and commercial embroidery machines, start an embroidery business packages, and multi head machines to expand their business, as well as embroidery software and used embroidery machines.
The new website features a modest and clean user-friendly design which will encourage increased user interaction and accessibility. With smoother navigation, better organization of products and services, this new website will better serve the needs of all its visitors.
RiCOMA's new website offers many distinctive features, including:

Digitizing software classes. Learn from the experts every week
Easier Navigation – Browse through products faster
Product Resources - This new feature includes catalogs, manuals, training videos, parts book and software upgrades.
Service & Support Center - Get your questions answered quickly by our factory certified technicians.
Embroidery Machine Reviews, Pre-owned embroidery machines, and heat press machines.
The launch of the new website is part of the company's ongoing efforts to expand online marketing on its products & services. RiCOMA International Corporation is the world's leading manufacturer of embroidery machines and embroidery software. RiCOMA is specialized in offering the best packages in the market by offering customers everything they need to start the business, grow the business and succeed in the business plus training, support, service and total customer satisfaction.
Please visit http://www.ricoma.us frequently for new product releases, technical information, and product demonstration to get the insight on getting maximum value for the customers needs