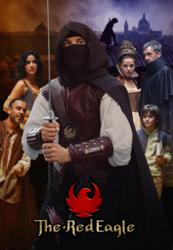 "The success of shows like Isabel and Faith from Korea indicates that online mainstream America is ready to consume great quality content, regardless of country of origin," said Hyun Park, Vice President of Latin and European Content Strategy
New York, NY (PRWEB) June 03, 2013
International television destination DramaFever is bringing 'Red Eagle' (Águila Roja), Spain's highest rated TV series, to US audiences. The online TV network for primetime shows from around the world is the first to broadcast the epic adventure series with English subtitles.
Set in 17th century Spain, 'Red Eagle' tells the story of Gonzalo de Montalvo (David Janer) who seeks to avenge the murder of his wife as the mysterious vigilante known only as Red Eagle. In investigating the tragic death, he becomes determined to fight the corruption of local sheriff and bring down a conspiracy to overthrow the king.
'Red Eagle', now in its fifth season, has been the number one series in its native Spain since its premiere on TVE (Televisión Española). Currently, Red Eagle with English subtitles is only on DramaFever with plans to syndicate to Hulu and Netflix.
"After our recent success with 'Isabel', we are very excited about our next big Spanish hit, Red Eagle (Águila Roja)," says Vice President Hyun Park, who oversees Latin American and European Content Strategy. "The success of shows like Isabel and Faith from Korea indicates that online mainstream America is ready to consume great quality content, regardless of country of origin. Red Eagle represents the type of content we want to offer our audience: international content with local ratings success, high quality production, great storytelling, and, most importantly, unavailable in the US, especially in English or with English subtitles."
Backed by AMC Networks, Bertelsmann, NALA Investments, and the cofounder of YouTube, DramaFever is striking deals with Latin American and Spanish networks and content owners for the highest-rated shows in their local markets. With titles from TVE, Imagina, Telefe and Artear, DramaFever has already built one of the largest US digital collections of Spanish-language TV programming available in the US. Red Eagle is the latest in a series of high-profile acquisitions, hot on the heels of period drama 'Isabel' and vintner family drama 'Vintage' (Gran Reserva). Other offerings include comedies, revenge dramas, historical novelas, and modern melodramas including 'Paco's Men', 'Killer Women', 'Montecristo', and 'Treat Me Nice'.
The company reports that its active US audience for Spanish-language series has quadrupled in the past six months. Currently, about one-third of DramaFever's 4 million monthly US viewers are Hispanic. Red Eagle is currently only available with English subtitles on DramaFever and across its mobile and smart TV apps. Registered subscribers watch instantly for free and benefit from additional features and controls than unregistered users. Premium subscribers watch in HD without advertising interruptions for less than $10 per month.
ABOUT DRAMAFEVER
Established in 2009, New York-based DramaFever is the leading online TV network for primetime shows from around the world. The service streams to millions over DramaFever.com, mobile and web TV apps (Android, iOS, Google TV, Roku) and also provides a curated selection of shows to partners including Hulu, Netflix, and iTunes. All shows are professionally translated into English and Spanish, and are available for free in high quality. To learn more, visit http://www.DramaFever.com.