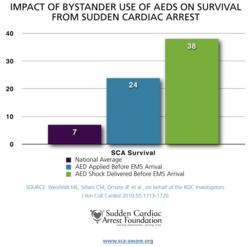 If automated external defibrillators are reclassified as (high-risk) medical devices... progress toward improving survival rates nationwide will be stymied.
Pittsburgh, PA (PRWEB) June 06, 2013
Sudden cardiac arrest strikes nearly 1,000 people every day in the U.S. and only 10 percent of victims survive. Those who do make it invariably have received immediate CPR and treatment with a defibrillator. In fact, research shows that survival rates of nearly 40 percent can be achieved when bystanders intervene quickly with CPR and automated external defibrillators before emergency medical services arrive at the scene. If the national average survival rate increased to 40 percent, as many as 100,000 additional lives could be saved each year.
The quest to save more lives through greater public awareness and training and more widespread deployment of AEDs may be facing a major setback, however. The Food and Drug Administration has proposed reclassifying AEDs as high-risk class III medical devices requiring premarket approval. AEDs are presently classified, effectively, as medium-risk devices. They have been in use for decades and about 2.4 million devices are deployed in the U.S.
While the FDA recognizes that AEDs are "successful at resuscitating victims of cardiac arrest by restoring normal cardiac rhythm," and "continued access to AEDs is important to the public health," the agency has expressed concerns about reports it has received regarding adverse events.
But if AEDs are designated as class III medical devices requiring pre-market approval, this excessively burdensome and costly regulatory process could negatively impact schools, colleges, businesses, places of worship, and other venues where AEDs should be readily available to help victims of sudden unexpected cardiac death.
The Sudden Cardiac Arrest Foundation urges the FDA instead to regulate AEDs as class II medical devices with special controls, a designation will that foster improved access to AEDs and encourage innovation, while minimizing risk. The Foundation also recommends initiatives that raise awareness, increase CPR-AED training among laypersons, increase AED deployment, and improve systems to ensure device readiness.
Norman S. Abramson, MD, FACEP, FCCM, a renowned cardiac arrest expert who serves as the Foundation's board chairman, states, "Reports of adverse events are important and should be vigorously scrutinized. However, we want to ensure that any increased regulations do not impede access to and use of AEDs, which would dramatically reduce the chances of survival for thousands of sudden cardiac arrest victims each year."
Research suggests that AEDs are safe, effective and reliable. The Public Access Defibrillation trial, a multi-center prospective clinical study funded by the National Institutes of Health, for example, found that "AEDs have an exceptionally high safety profile when used by trained lay responders." Investigators reported there were no inappropriate shocks and no failures to shock when indicated. Another NIH-funded study, which looked at the use of AEDs in the home, also found there were no inappropriate shocks. Similarly, research conducted in Chicago area airports determined that AEDs were used safely and effectively by untrained lay responders.
"It's essential to keep in mind that AEDs do not cause death," said David Belkin, Esq., a cardiac arrest survivor and Foundation board member. "By definition, they are used to help restore life for people who die suddenly." Belkin testified before the FDA in 2011 stating, "If designating AEDs as class III devices reduces their distribution and access—due to increased costs and regulatory hurdles—progress toward improving survival rates nationwide will be stymied."
The Foundation encourages sudden cardiac arrest survivors, people who have lost loved ones to cardiac arrest, EMS providers, and other stakeholders to review the FDA's position and submit comments here (specify Docket No. FDA-2013-N-0234) by June 24. The Foundation also invites individuals to consider signing its petition here.
To learn more about the Sudden Cardiac Arrest Foundation position on the issue and for references cited in this release, click here. To learn more about the survivor network, click here.
About the Sudden Cardiac Arrest Foundation
The Sudden Cardiac Arrest Foundation is a national community benefit 501(c)(3) organization dedicated to raising awareness about sudden cardiac arrest and saving lives. Programs include educational campaigns for secondary schools and colleges and the Sudden Cardiac Arrest Network, an online community that provides peer support and opportunities for survivors and family members to participate in awareness, advocacy, and research initiatives.