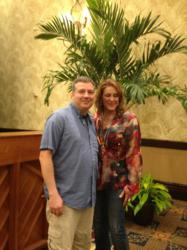 "If you want to learn how to make money rehabbing houses, then you want to learn from Robyn Thompson" Josh Caldwell President of the Western PA Real Estate Investors Assn.
Pittsburgh, PA (PRWEB) June 05, 2013
The Western Pennsylvania Real Estate Investor's Association is a club of men and women who invest in real estate and real estate related ventures in and around the Pittsburgh, PA real estate market. One of the core values that links members of the club is a desire to learn the most powerful techniques that can be used in today's real estate market.
Club members are always seeking out the best of the best among real estate educators. Every year the club selects one presenter or guru who has given the best educational class to the group in a given category. This year, the board of directors made a unanimous selection of Ms. Robyn Thompson as the recipient for the Teaching Excellence Award. Robyn Thompson was part of the Pittsburgh Financial Freedom Series presented by WPREIA at the Sheraton Station Square hotel.
Robyn Thompson presented an eight hour block of instruction on the ins and outs of how to rehab single family houses for big profits. Her personal success in renovating over 150 houses in her career gave Robyn a unique perspective and a mountain of credibility on the subject. There are a lot of so called gurus who stand up on stages and talk about how to make money, some of them are nothing more than just salesmen, but Robyn Thompson is the real deal. Many of her students have gone on to be successful educators in their own right.
Robyn teaches classes all over the United States and Canada. She also offers a series of home study courses and several intensive multi-day "boot camps" during the year. What carried Robyn to this award was her blend of approachability and good old fashioned common sense. She is able to communicate in a way that is both easy to understand and detailed enough to be carried forward by nearly anyone. Feedback from the attendees in Pittsburgh carried the vote in favor of Robyn; the packed house of guests voted Robyn as the best and most likable teacher at the three day event that included some of the best known speakers in the business.
What makes Robyn extra special is her background and what she has done with her success. Robyn Thompson got her start in real estate because she was fired from her corporate job. She was forced to work part time as a waitress. So with little cash and even less knowledge, she jumped right into the world of real estate and made herself very wealthy. With her success, Robyn turned to teaching others how to make money the same way that she did one house at a time. Her monthly newsletter is a well-regarded educational product that teaches both novice and experienced real estate investors how to rehab a house for big profits. The Robyn Thompson newsletter is one part of her step by step instructional platform that anyone can understand. One of her better known students has his own house flipping TV show.
Once Robyn became successful, she turned again to more charitable pursuits such as helping other women in business and funding an orphanage in Haiti.