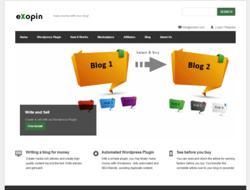 A WordPress plug-in that helps you to engage in content marketing - easily!
Wilmington, DE (PRWEB) June 04, 2013
The ideal solution for WordPress owners looking to engage in content marketing and selling their blog posts, eXopin is set to revolutionize the way bloggers and SEO content creators sell their work. Via an entirely automated process, eXopin removes the complexities of selling rich blog content online and affords bloggers a real chance to earn money from their writing efforts.
Ralf Schwoebel, Tradebit's CEO and the chief architect behind eXopin, said, "We're excited at the launch of this brand new plug-in, which offers unique opportunities to both content creators wanting to make money blogging and marketers searching for high quality SEO-friendly content to spearhead their marketing strategies."
The plug-in gives writers a chance to earn money, not just from their writing, but also their ability to assemble high quality blog content out of raw text, which can be purchased from services such as Textbroker.
By managing the blog-to-blog transfer process, eXopin removes the tricky part of the process. All users need to do is download eXopin, decide how much they want to charge for their content and select the blog posts they want to sell via their own WordPress installation or the central Marketplace on http://www.exopin.com/.
Created by the team at Tradebit Inc., a world leader in digital download and retail technology for merchants and affiliates, the free eXopin plug-in for WordPress offers bloggers a brand new post-by-post sales opportunity and is expected to change the way bloggers make money from their web content.