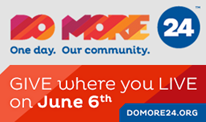 One June 6, I will personally match 100% every donation of $24 or more, up to $4800.
Washington, DC (PRWEB) June 04, 2013
During the National Capitol Area United Way's June 6 Day of Giving, the family of Marine Sergeant Thomas Sullivan hopes that donors will support the nonprofit organization they founded in his memory via a special one-day only "Do More 24" crowd funding site.
National Capitol Area resident Sergeant Thomas Joseph Sullivan, an Iraq War Veteran, died in 2009 of complications related to Post-Deployment Illness, a severe but not-well-understood condition plaguing veterans who return from the theater of war with musculoskeletal, respiratory, gastrointestinal, cardiac, and a range of other debilitating health issues.
"We founded this organization to help get diagnosis and treatment for all who become sick after deployment," said Jeanne Sullivan, Sergeant Sullivan's mother and a co-founder of the organization, along with her husband Peter, and their son Daniel.
The Sergeant Sullivan Center now raises funds for healthcare education, public awareness, and medical research to find solutions for this health concern that has impacted one in three veterans since the 1991 Persian Gulf War.
Chronic physical illnesses affect 250,000 Persian Gulf War Veterans and are likely to strike 800,000 Veterans of the post-9/11 wars. In fact, 478,267 Veterans have already come forward with undiagnosed symptoms. Yet in the last two decades there has been little progress identifying what causes the illnesses and how best to treat them.
"We need more money for research and education in this area," said Jeanne Sullivan, "Those who donate to the Sergeant Sullivan Center on June 6 will help us raise funds to support research that has not yet been done and educate doctors and the public about this issue. I will personally match 100% every donation of $24 or more, up to $4800."
Post-Deployment Illness is a pressing concern for the National Capitol Area, headquarters to the military and Veteran healthcare agencies. The United Way's Day of Giving for nonprofits in the National Capitol Area is a twenty-four hour online crowd funding campaign beginning at 12 am on Thursday June 6 and ending one minute before midnight.
Uber Supports "Do More 24" Charities!
Donors of $24 through "Do More 24" on June 6 receive a special incentive from Uber, a luxury on-demand car hiring company managed by a smart phone application. According to the National Capitol Area United Way, for everyone who donates $24 or more on June 6th, Uber will provide new Uber customers with $24 off their first Uber ride and the first 1,000 existing Uber customers will get $24 off their next Uber ride. If the ride costs $24, it's free. According to Uber on Facebook, "You'll be able to use the vouchers in any US Uber city!"
About the Sergeant Sullivan Center
Founded in 2010 by the family of a Marine who fell to Post-Deployment Illness, The Sergeant Sullivan Center is a 501 (c) (3) nonprofit organization dedicated to improving health outcomes for current and former military personnel, especially those who are suffering from emerging, complicated, or currently unexplained post deployment health concerns, through awareness, research, and connection. More information is available at http://www.sgtsullivancenter.org.