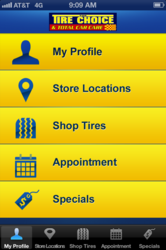 Fort Lauderdale, FL (PRWEB) June 05, 2013
The Tire Choice & Total Car Care has launched a brand new app for iPhone devices. Customers who use the app can access a range of useful features, including:
-- Store Locator: displays the address and contact information for the nearest Tire Choice storefronts based on current location – very useful to users who are broken down in an unfamiliar area. Users can also mark a location as "preferred." The app remembers this preference and incorporates it into other functions.
-- Shop for Tires: allows users to search the Tire Choice's vast inventory of name brand tires at the guaranteed lowest prices. With the app, users can also receive a price quote for tires to be honored at a Tire Choice location of their choosing.
-- Appointment Scheduler: By submitting their vehicle information and brief description of repair concerns, users can instantly schedule an appointment with their preferred Tire Choice location for automotive services.
-- Specials: This feature keeps users up-to-date about all of the latest sales, coupons, and special offers available at The Tire Choice. Users can access this feature and claim discounts in-store at the time of service.
The app also allows users to maintain a personal profile to help The Tire Choice track contact information and vehicle information in order to provide better, faster service.
The new iPhone app joins The Tire Choice's other elements of customer convenience, which include Wi-Fi enabled storefronts, car care advice, price match guarantees, and much more. Users can download The Tire Choice app and write a review for it on the Apple iTunes website.
About The Tire Choice & Total Car Care
The Tire Choice & Total Car Care is Florida's fastest growing tire and auto repair superstore. The Tire Choice carries a number of unique and impressive distinctions including an A+ rating from The Better Business Bureau, Best Auto Service by the South Lee Messenger, a listing on Modern Tire Dealer's list of 100 Top Independent Tire Dealer Chains in the U.S., and many more.
The Tire Choice prides itself on low prices and quality service. All of the finest brand name tires like Michelin, BFGoodrich, Uniroyal, Pirelli, Bridgestone, Yokohama, Nitto, Goodyear, Falken, and Continental are kept in stock and backed by a warranty that's available at more than 30,000 service locations nationwide.
In addition to tire sales, The Tire Choice facilities are state-of-the-art and fully equipped to provide a range of automotive services for all vehicles, including luxury and exotic models.
The Tire Choice hires and trains the best teams that go the extra mile to ensure 100% customer satisfaction. All Tire Choice auto-technicians are certified by the National Institute for Automotive Service Excellence (ASE).
For the best tire and auto service in Florida, make the right choice … The Tire Choice!