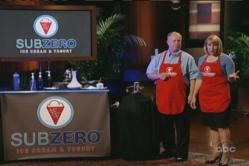 "We invite people to come to the stores and share in this exciting opportunity with us"
(PRWEB) June 04, 2013
Salt Lake City, June 3, 2013- Sub Zero Ice Cream & Yogurt combines dessert and science to create flash-frozen treats to please any palate. On June 7 at 8 p.m. MST, Sub Zero founders, Jerry and Naomi Hancock demonstrate how liquid nitrogen scientifically freezes cream and flavors into a delicious treat on ABC's Shark Tank.
The Hancocks originally pitched their idea to the Sharks in January when they blew the judges away with their culinary display. After receiving a positive review, Sub Zero gets to pitch its product to TV viewers again on Friday.
"Participating on 'Shark Tank' is a big step for our growing brand," said Jerry Hancock, CEO of Sub Zero Ice Cream & Yogurt. "We have been steadily opening new franchises across the nation, and we're excited for the awareness this opportunity will provide. We invite people to come to the stores and share in this exciting opportunity with us."
Sub Zero offers over 34 trillion flavor combinations that can meet almost any dietary need. Customers choose from 7 bases: Premium, Custard, Low-fat, Dairy-free, Yogurt, Soy and Rice; billions of flavor combinations, and 35 different mix-ins so that every customer is satisfied with their personalized ice cream from the base up.
Through Sub Zero's instant-freezing process, the milk molecules stay small and the water molecules don't have time to become ice crystals, ultimately creating a smooth, creamy ice cream for the customer. Because Sub Zero stores don't use freezers, they save 25 percent on costs and energy, which helps support the community and environment.
To celebrate Sub Zero airing on Shark Tank, Hancock's store in Provo, UT will play the episode for customers to enjoy along with special treats just for the viewing. Check your local Sub Zero location for viewing events and promotions.