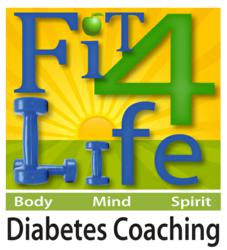 "My experience with Coach Taylore has been transformative, literally, life changing! She accurately assessed my current life issues and took my hand down the road I was unwilling to walk alone. I was amazed at how easy this process is." Tori Adams.
Seattle, WA (PRWEB) June 05, 2013
Diabetes is becoming an epidemic in this country. Over 26 million people have diabetes – one out of 12 people – and the numbers are rising rapidly (Source: National Center for Health Statistics). Although most people are familiar with what to do to avoid and manage diabetes (Lose weight. Eat healthier. Exercise more.), the vast majority struggle with getting themselves motivated to do it. That's where a diabetes coach comes in.
Diabetes Coach Taylore Caldwell of Fit4Life Diabetes Coaching in Seattle explains why and how coaching works.
"Leading physicians agree that the majority of diabetes treatment programs are not only misguided, but also outdated. Their focus has been on masking over symptoms instead of dealing with the root causes of a diabetic's problems head on. They are missing the practical tools, support and encouragement that can empower a diabetic to experience long term health and success."
She adds, "Coaching is different. Coaching benefits diabetics by combining education, counseling and support to teach them HOW TO balance their bodies for health and well being, empowering them to take action."
Diabetics, and caretakers of diabetics, can choose the coaching program(s) that meets their objectives and budget. These range from an "In-Home Pantry Makeover" to a "1-On-1 Coaching Bootcamp" that lasts 6 weeks. The 12-Week "1-On-1 Coaching Program" provides more in depth support and counseling. "Group Session Coaching Programs" are also available.
Coach Caldwell, herself diagnosed with diabetes over 13 years ago, knows firsthand how hard it is to reverse the progression of the disease alone. "I know what I needed and I know what my clients need. I work closely with each one to map out a game plan for achieving the results they want. I break down what is holding them back and then give them manageable steps to move forward. I stand by them all the way."
Taylore adds, "I am now fulfilling my life's mission to provide fellow diabetics with the knowledge, motivation, empowerment and support to conquer their diabetes and turn it into a new beginning. It is thrilling for me to experience the life-changing results of my coaching."
About
Fit4Life Diabetes Coach Taylore Caldwell offers One-on-One and Group Session Coaching Programs both locally and nationally online. The website and blog is full of helpful resources. She offers a free Introductory Consultation to anyone visiting the website or the Fit4Life Facebook page.