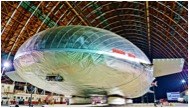 The initial fleet of 24 vehicles will be allocated based on our clients' needs, which include Project Cargo, resupplying offshore oil rigs, moving wind components across the vast landscapes and over borders of Southern Africa.
Munich, Germany (PRWEB) June 03, 2013
Aeros will present the Aeroscraft Model ML866 (66 ton payload) and ML868 (250 ton) airlift cargo vehicle configurations featuring true vertical takeoff and landing (VTOL) capability empowered by an innovative and revolutionary internal ballast control system at Air Cargo Europe Convention in Munich, Germany this week.
Aeros' booth number is 124 in Hall A4.
The proof-of-design Aeroscraft vehicle was successfully completed and tested at the end of last year. During this convention Aeros will continue dialog with cargo airlines that will add value to the new vertical transportation system being created with the Aeroscraft 66 and 250-ton payload capable aircraft configurations.
"The initial fleet of 24 vehicles will be allocated based on our clients' needs, which include Project Cargo, resupplying offshore oil rigs, moving wind components across the vast landscapes and over borders of Southern Africa, and bringing renewable energy power sources and equipment to rural villages in India," explains Aeros CEO Igor Pasternak, adding, "Recognizing about half the fleet will be located in South America, the Arctic and sub-Saharan Africa, our vehicles have been tested and developed with the goal of global operations in all climates."
The network of globally positioned Aeroscrafts will take the 'chain' out of supply chain and give Aeros' clients unlimited trans-continental reach, on every continent, moving specialty cargo from point-to-point. The Aeroscraft's advantage is anchored by the ability to place cargo onto any topographical location in the world with pinpoint accuracy using the proprietary suspension system allowing for aerial cargo placement while hovering above the delivery zone.
With access to the initial fleet becoming more limited by the week, customers are moving fast to negotiate exclusive rights to Aeroscraft within their industries, recognizing new global opportunities are opened, significant competitive advantages will be established, and new shareholder value created.
The benefits are globally transformational and significant to humanity. The Aeroscraft provides a real transportation solution to address the CO2 emissions driven up by global commerce, which is currently dependent on hub and spoke distribution model that uses a combination of trucks, trains and planes to move cargo to consumers and the commercial marketplace.
The Aeroscraft VTOL airship is designed for point-to-point delivery of heavy/oversize cargo to anywhere in the world, including remote and austere locations. It is a rigid-shelled aircraft offering 1/3 the fuel consumption of a regular cargo aircraft. The Aeroscraft cargo mobility solution does not require any infrastructure or ground support personnel. Perhaps most importantly, with the Aeroscraft, Aeros has solved the crucial issue of ballast control, achieving the ability to discharge tons of cargo even in hover mode.
Media interested in arranging interviews should contact media(at)aeroscraft(dot)com, or PR via the contact information below.
About Aeroscraft: An Aeroscraft is a new type of Rigid Variable Buoyancy Air Vehicle, designed to control lift in all stages of air or ground operations, including the ability to off-load heavy payloads without the need to re-ballast. For the first time in history, an aircraft has been designed to control and adjust buoyant and dynamic lift, creating a new paradigm for air transportation and logistics. Poised to enhance the air transportation industry, the Aeroscraft will deliver opportunities for business and consumers globally by access to remote locations and by new cargo delivery capabilities. The key features of the Aeroscraft include a rigid structure, vertical takeoff and landing, and operational abilities at low speed, in hover, and from unprepared surfaces.
About Worldwide Aeros Corp. (Aeros): In 1987 Igor Pasternak founded Aeros and advanced the company from a small advertising aerostat production manufacturer in the Ukraine to a premier airship producer and R&D firm for the aerospace industry based in the United States. Through their exceptional manufacturing quality, Aeros has achieved multiple FAA airship type certificates and operates with an FAA Production Certificate. Throughout the years, Aeros has become a premier airship producer and research and development firm for the aerospace industry for a commitment to quality engineering, production and client satisfaction. Aeros currently boasts an extraordinary product line that includes the most advanced airships and tethered aerostats utilized in commercial and government applications throughout the world. For the past quarter century, Aeros has pioneered new product advancements in the aerospace defense technology sector, which has been a strong contributing factor in maintaining continuous corporate growth. The entire Aeros organization and the advisory board, comprised of military and commercial leaders, are dedicated to one goal of harnessing the exciting future and opportunities ahead. All Aeros team members are focused on meeting the rapidly rising demand for oversized cargo transportation solutions.
# # #
Aeros
John Kiehle, Director of Communications
(323) 201-8374 or john.kiehle(at)aeroscraft(dot)com