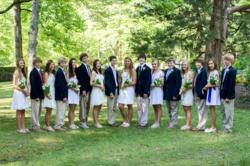 Let us become accustomed to doing good deeds so that it becomes our chief delight.
Gloucester, Va. (PRWEB) June 04, 2013
Ware Academy celebrated its eighth grade class of 2013 Friday, May 31 during a commencement ceremony at Ware Episcopal Church.
Graduations are not just for students, but also for parents, said Thomas L. Thomas, III, Ware Academy's Head of School. It's the teacher, faculty, parent team that sets the graduates up for success.
"Looking out at these bright young faces, I'd say we've done a good job," Thomas said.
The newest Ware Academy graduates include Abigail Lee Blankenship, Jack Henry Corson, Alexandra Christina Fuccella, Ellie Cornell Gale, Kathryn Oliver James, Eva May Jasinski, Caleb Royce Johnson, Skyler Bryce Lennon, Brennan Logan Miller, Evan Michael Pausic, Sydney Jordan Pitts, Benjamin Kirk Pruitt, Joshua Carlton Revere, Margaret Mays Ann Strawn, Joshua Randolph Waite and Grace Naomi Wilson.
The graduates are heading to Christchurch School, West Point High School, Mathews High School, Gloucester High School, Chatham Hall and the Yorktown International Baccalaureate program.
Thomas spoke of each student individually, listing out not only their academic and athletic successes through the years, but also the personal triumphs and lessons they've learned along the way. He spoke of students who seem quiet and shy on the surface, but intuitive about human nature. He listed out funny moments of school admission interviews and annual eighth grade field trip antics. And he gave each student a gift of advice meant just for them, crafted specially for their loves in the classroom, on athletic fields and for goals in life.
Commencement keynote speaker, Robert Leibowitz, left the graduates with instructions to always "give it back."
Not the kind of "give it back" you scream at a sibling, said Leibowitz, the head lacrosse coach at Ware Academy, as well as the former manager of staff development for the Federal Reserve System.
Give it back to your community through volunteering. Give it back by setting a good example for the next generation. Give it back to the environment. And give it back, he said, even when it's the hard thing to do.
"Commencement means to begin, not to end," Leibowitz said. "Graduations are life events and life events are remembered for a long time. Remember 'give it back.'"
The power of citizenship and strength of character echoed throughout the ceremony, as it does throughout the school year.
"Let us become accustomed to doing good deeds," said graduate Abigail Blankenship during the invocation, "so that it becomes our chief delight."
In thanks for the legacy Ware Academy left on each student of ethics, character and citizenship, the graduates' parents, for the first time in Ware Academy's history, presented a Legacy Gift of $10,000. The donation will support enhancing the environmental science program.
The Eighth Grade Class presented an annual class gift – a new black and gold bench for the front office.
"We believe a first impression is very important," said graduate Joshua Revere of the gift that will greet visitors when they arrive on campus for the first time. "We will have a sense of belonging (at Ware) because of what we left behind."
For more information about Ware Academy, visit http://www.wareacademy.org.
Stay connected with Ware Academy staff, faculty and families at http://www.facebook.com/WareAcademy.
ABOUT WARE ACADEMY:
Located one mile from Main Street in Gloucester's historic Main Street district, Ware Academy is a Pre-Kindergarten through Eighth Grade independent school. The 19-acre campus is widely recognized by its signature farmhouse called Noland Hall, which houses the administrative offices, kindergarten, pre-kindergarten, music and art classrooms. The Lower and Middle Schools are located in Waddell, Thomas, and Pickett Halls, with athletics, physical education and drama classes held in Kilborn Hall.
In addition to classrooms, Ware offers a fully outfitted computer lab, a science laboratory and a 1,000-square-foot library. The athletic program includes soccer, volleyball, cross-country, basketball, lacrosse and golf.
Ware Academy is accredited by the Virginia Association of Independent Schools, the National Association of Independent Schools, and the Education Records Bureau and the Secondary School Admissions Test Board. Ware Academy is also a member of the National Middle School Association, the National Junior Honor Society and the Association of Supervision in Curriculum Development.