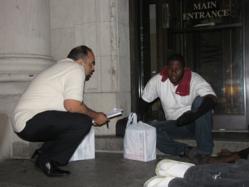 One thing we have learned from Mayor Cory Booker is that the only way to truly help a person is to lend out your own hand. That's what we have been doing every day since we established our partnership with the Mayor and the city of Newark four years ago.
Newark, NJ (PRWEB) June 04, 2013
The GI Go Fund completed another one of its nationally recognized "Midnight Missions for Homeless Veterans" at Newark Penn Station, where organization volunteers and service providers assisted dozens of veterans living on the streets of Newark.
"Midnight Missions for Homeless Veterans" is a nationally recognized emergency housing program which involves teams of volunteers going out before dawn to areas with high volumes of veteran homelessness to provide food, clothes, hygiene supplies, as well as emergency medical assistance and benefits assessment by the Department of Veterans Affairs (VA). In addition, the volunteers collect critical information to connect veterans to housing through the HUD-VASH program, which provides veterans who are living on the streets housing vouchers that give them the chance to find a home of their own.
This Midnight Mission involved several partners each playing a critical role in the successful assistance of veterans. Among them was Points of Light, who provided the organization with members of the Veteran Leader Corps, who are part of the AmeriCorps National Direct program that focuses on developing volunteer leadership, meaningful service opportunities and cultivating job readiness with robust training and resources for veterans and military families. In addition, a fellow from the Mission Continues, the group that challenges veterans to serve and inspire in communities across, assisted in the event.
The GI Go Fund is an organization on the cutting edge of offering support to veterans, creating innovative ways of providing aid and assistance to low income and homeless veterans, as well as helping them find employment, secure educational benefits, and access healthcare. They have worked with Mayor Cory Booker to turn Newark into a Model City for assisting Veterans, implementing a Smarter Government approach that involves delivering hands-on services that have changed the lives of thousands of veterans.
"All of the members of the GI Go Fund Team are heroes. They have established a cutting edge, innovative, unique model for service delivery," Booker said. "These extraordinary city partners have created a national model that should be replicated."
Jack Fanous, Executive Director of The GI Go Fund, noted the importance of direct outreach programs such as these to addressing the homeless veteran population.
"You have to go out there and reach out directly to them," he said. "One thing we have learned from Mayor Booker is that the only way to truly help a person is to lend out your own hand. That's what we have been doing every day since we established our partnership with the Mayor and the city four years ago: engage the community to come together and be civic leaders to the men and women who once served as military leaders for us. In doing so, we have developed a smarter government approach to municipal government, ensuring that the strengths of both the local governments and committed nonprofits work together to solve a common problem. We are proud of what we have achieved here in Newark, and we hope that what we have accomplished here can be done throughout the country."
Homeless veterans were given care packages of food, clothing, and emergency supplies from Operation Gratitude, the California-based nonprofit that has provided hundreds of thousands of its care packages to soldiers fighting in our recent conflicts in Iraq and Afghanistan.
Also part of this event was the 100,000 Homes campaign, whose aggressive and forward-thinking efforts to finding housing for homeless individuals has created many great housing initiatives whose efforts served as an example to the GI Go Fund when it developed its Midnight Mission for Homeless Veterans.
Since 2008, nearly 50,000 HUD-VASH vouchers have been awarded to help veterans find homes, serving as an integral part of fulfilling the pledge set out by President Obama and the VA to end veteran homelessness within five years.
The GI Go Fund has been conducting "Midnight Missions for Homeless Veterans" for over three years, establishing a 21st century solution to locate homeless veterans and fulfill the President's goal. This unique and innovative method of addressing veteran homelessness has already received national recognition, as it was featured on ABC's reality show "Secret Millionaire", as well as the Fox News Channel.