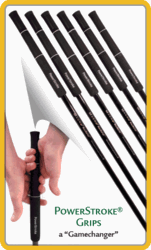 "Until Macro Golf, the most ergonomic grip in a player's
bag was on his umbrella."

— Tom Fleetwood,
Senior Playing Professional, Director of Instruction for the central Florida region, National Golf Schools
Richmond, Virginia (PRWEB) June 06, 2013
The Macro Golf Company has announced it has begun production of "Sheila," a new ergonomically configured golf grip designed for women. Sheila is the latest model in Macro Golf's PowerStroke® line of ergonomically shaped full swing grips. It is the first of the company's mid-tapered grips designed to provide greater hand control, wrist-flex, set-up extension and comfort for women golfers than is possible with their use of the more familiar wide-butt traditionally tapered non-ergonomic grips which have been the standard club grip shape in golf for more than 100 years.
Dr. Richard D. Ferris, CO of Macro Golf Co. which is located in Richmond, VA., has been issued both United States and Chinese Utility and Design Patents for innovations both for the company's Square Stroke® square to square putter grips and the ergonomic PowerStroke full swing grips. In making the company's announcement regarding Sheila Dr. Ferris indicated that the innovative ergonomic components of all of Macro Golf's PowerStroke models are shaped to support the natural actions of the hands and have been ruled as conforming for play by the USGA and R&A. He stated further that the increased tension-free wrist flex and easier full extension Sheila's configuration provides strengthen a woman's ability to perform a more consistently accurate "One Plane Swing"; a golf swing protocol that Dr. Ferris believes is the simplest to learn, and easiest to perform and successfully repeat. Dr. Ferris stated that the Sheila golf club grip, like all of Macro Golf's innovative equipment products, is a hallmark of the company's mission to make golf a less difficult, more enjoyable experience, something he stated that is urgently needed in golf today.
Macro Golf is a manufacturer/distributor of golf putters (clubs), putter grips, MacMashie Hybrid golf clubs, PowerStroke Full Swing golf grips and MacMetal™ composite golf shafts.
The company has been awarded the prestigious Tech Award for Excellence from Golf Tips Magazine.
Individuals that wish to learn more about the Sheila golf grips rips, or about any of Macro Golf's other products are urged to visit the Macro Golf Company website http://www.macrogolf.com and/or call Macro Golf at (877) 270-9402.