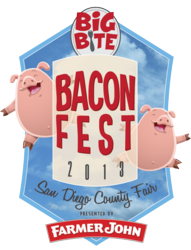 A Wedding of Epic Porkportions
Del Mar, CA (PRWEB) June 06, 2013
Pigs do fly, Jet Blue is the official airline sponsor of the Big Bite Bacon Fest Wedding. Adrienne Dunvan and Eddie Quinones of Vista, CA won the contest as the lucky couple to be married at the Big Bite Bacon Fest at the annual San Diego County Fair. Having bonded over their love for Pernil a Puerto Rican Pork Shoulder, the two are a match made in hog-heaven.
The bacon wedding will take place on Father's Day, June 16th, 2013 in the Del Mar Arena at the Del Mar Fairgrounds. From the bacon isle runners to the throwing of Bacon-bits as the couple takes their first steps as husband and wife, this is indeed, a real wedding.
Event producers haven't trimmed the fat of this shin-dig one bit. The bride and groom will be treated to the bacon wedding of their dreams, including a venue decked out with bacon themed accents, a ceremony presided over by local radio D.J. Jesse Lozano of Star 94.1, a bacon-clad wedding party, thousands of fellow bacon-lover onlookers, and a wedding-party ride on the San Diego County Fair "Ferris Squeal" of love.
Sweet Cheeks Baking Company is creating the bacon themed wedding cake and Donut Bar will be providing the grooms cake, a giant maple bacon donut.
To celebrate their nuptials, the couple will go on a bacon-drenched honeymoon. Their journey begins with a trip to the Pigtown Historic District in Southeast Baltimore - once the bacon hub of the United States in the early 1900's, and includes a five-night adventure through Baltimore and the 12th Annual Pigtown Festival.
###
The San Diego County Fair, presented by Albertsons/Sav-on, is the largest annual event in San Diego County, the largest county Fair in California, and the fourth largest Fair in North America. In 2012, the Fair drew more than 1.5 million visitors, breaking an attendance record for the fourth consecutive year. "GAME ON!" is the theme for the 2013 Fair. For more information, visit sdfair.com.
The Big Bite Bacon Fest, sponsored by Farmer John, will be held on Father's Day, Sunday, June 16, 2013. The event is new to the 2013 Fair season tickets starting at $40 (including Fair admission), it is sure to make the dreams of every San Diegan bacon lover come true. The massive Del Mar Arena will be transformed into bacon paradise as Big Bite Bacon Fest showcases the cooking talents of local chefs, unlimited tastings of bacon infused dishes, 50 craft beers, and great live entertainment components. The festival will also feature a fully sanctioned food competition where both amateur and professional cooks can compete and win more prizes totaling $5,000 cash and advancement to the World Food Championship in Las Vegas. For more information, visit http://www.bigbitebaconfest.com.