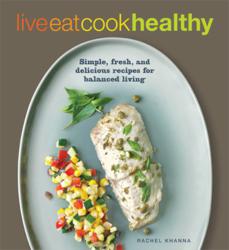 Brava! Rachel Khanna has cooked up a beautiful, informative and tempting tome that features both her Swiss-French heritage and her adopted homes in East and South Asia, said Amy Kalafa, award-winning producer of Two Angry Moms and author of Lunch Wars
Greenwich, Conn. (PRWEB) June 05, 2013
Summer is just around the corner, and what better way to prepare than with fresh, award-winning recipes? Live, Eat, Cook Healthy: Simple, Fresh, And Delicious Recipes For Balanced Living by Rachel Khanna is 40 percent off now through June 30. The cookbook was recently named an award finalist for the 2013 Next Generation Indie Book Awards in two categories: Cookbook and Home/Garden and Diet/Nutrition/Weight Loss.
Live, Eat, Cook Healthy features more than 130 recipes to help you spice up your summer eating and discover the health benefits of traditional cuisine from France, India and South Asia.
Khanna, an accomplished chef and certified holistic health counselor, will teach you how to make healthy summer meals that will make you forget all about your winter blues. Learn how to cook summer dishes and sides such as:

Cooling Gazpacho Soup
Summery Ratatouille
Summer Fresh Pesto
Summer Chopped Salad with Cucumber, Cilantro and Avocado, and
Strawberry-Rhubarb Crumble.
Easy-to-follow recipes will transform your thinking about whole foods and how they can improve your well-being. Beautifully-rendered with striking food photography, LIVE, EAT, COOK HEALTHY offers tips on the "Top 25 Healing Foods," "Best and Worst Fruits and Vegetables" and "Healing Herbs and Spices."
Live, Eat, Cook Healthy: Simple, Fresh, And Delicious Recipes For Balanced Living, by Rachel Khanna (January 2013). ISBN-978-0-9779568-2-1; $24.95. Available at http://www.LiveEatCookHealthy.com, Amazon.com, Barnesandnoble.com and Booksamillion.com, as well as select retailers in Connecticut.
About Rachel Khanna
Rachel Khanna is a chef, certified holistic health counselor, and mom of four. In fact, it was after the births of her daughters that Rachel began focusing on nutrition for balanced living. After a successful career in marketing, she trained at the renowned Institute of Culinary Education in New York then founded Greenwich, Connecticut-based Tiffin, her successful organic catering business. As an accomplished chef and holistic health counselor, Rachel has positively impacted the lives of many people through her cooking classes, workshops, and individual and group coaching. Rachel became a certified health counselor and food therapist through programs at the Institute of Integrative Nutrition and the Natural Gourmet Institute, respectively. She continues to pursue her studies in holistic health.
About the Next Generation Indie Book Awards
The Next Generation Indie Book Awards is the largest Not-for-Profit book awards program for indie authors and independent publishers. In its sixth year of operation, the Next Generation Indie Book Awards was established to recognize and honor the most exceptional independently published books in 60 different categories, for the year, and is presented by Independent Book Publishing Professionals Group in cooperation with Marilyn Allen of Allen O'Shea Literary Agency.