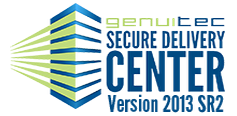 Secure Delivery Center will now offer real-time continuous delivery for Eclipse Rich Client Platforms (RCPs) and internal software.
Dallas, Texas (PRWEB) June 05, 2013
Genuitec, LLC, a founding member of the Eclipse Foundation along with IBM, is proud to announce enriched delivery capabilities for Secure Delivery Center Service Release 2 (SDC SR2), with visual Rich Client Platform (RCP) delivery. SR2 is a powerful tool for build and release managers allowing developers to visually discover and deploy current RCP products, empowering them to administer and deliver source software efficiently.
"I'm thrilled with the new opportunities that SR2 provides," said Tim Webb, director of innovation and sales strategy at Genuitec. "Now with SR2, delivery becomes simple and lets customers focus on the creative work of making the software, not dealing with delivery."
The expanded capabilities of Secure Delivery Center will now offer real-time continuous delivery for Eclipse Rich Client Platforms (RCPs) and internal software. Customers will benefit from the ability to integrate proprietary software and Eclipse RCPs directly into SDC to push out deliverables. Customers can now also use SDC to push out tools, updates, and bug fixes instantaneously to teams and their customers.
SR2 includes significant enhancements to network security, allowing developers to restrict external access at a greater degree by requiring specific and hard to implement requirements such as the ability to isolate communication for end-users from administrators. SDC lets developers easily configure complex arrays of network configurations to provide flexibility for changing needs and provides proxy support, proxy problem reporting, and guidance.
Other new capabilities found in SDC SR2 include additional workspace tasks, alternate web mappings to specify a URL for redirecting traffic to a different port, host, or protocol, and preliminary support for the Eclipse 4.3 Kepler build. New Target Platform workspace tasks allow for the provision of target platforms in your packages, ensuring teams with are in sync with unified platforms and tool stacks. SDC SR2 is the first version that has initial support for Kepler, including the new HttpClient4 integration that is now part of the release. An early access version of Kepler is available upon request.
Equipped with drag-and-drop functionality and a beautiful and intuitive user interface, SDC allows IT managers to grab Eclipse, set regulations on its usage, pick the parts they need for their project(s), then package and send their enterprise flavor of Eclipse globally to their developer teams.
Granularity in its reporting give a clear and concise understanding of how Eclipse or MyEclipse is used, what tool stacks and versions work the best on each project, and which configurations are successful in project development.
Secure Delivery Center is ready out-of-the-box for installation, and it requires only a few, easy questions answered about company policies and software governance before acting as an inside-the-firewall Eclipse and MyEclipse management tool.
SDC starts at only about $45 per developer and is available as a free 30-day trial at http://www.genuitec.com/sdc/download.php. In addition, SDC is available for MyEclipse users as MyEclipse Secure Edition. Free trial users and those with current subscriptions receive all updates at no cost; enhanced service agreements are now available and vary in cost.
About Genuitec
With year-over-year growth since the company was founded in 1997, Genuitec continues to expand by offering superior products to enterprises at value-driven prices. Its products are used by 17,000 global enterprises including 80 percent of Fortune 500 companies. Genuitec's support forums are a vibrant community where users engage with staff to answer any number of technical needs. Genuitec is constantly evaluating market opportunities for new areas of growth, and has launched a new product in each of the last 4 years. As a fully-distributed workforce, the company maintains a low overhead, yet attracts the most talented software developers with its flexible employment options.
Genuitec is based in Flower Mound, Texas and is founding member of the Eclipse Foundation along with IBM, Intel and HP.
Please follow Genuitec's latest news by joining "MyEclipse" on Facebook and on Twitter @Genuitec_SDC and @Genuitec