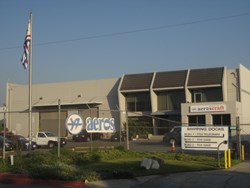 Aeros is developing an amazing technology for air cargo transport, and as a City we must encourage and assist Aeros to grow and expand within our community.
Montebello, California (PRWEB) June 05, 2013
On Wednesday, May 29th, the Montebello City Council recognized the future of Aeros with a unanimous vote in favor of changing the Aeros street address from Gage Road to Aeros Way. The portion of Gage Road between Telegraph Ave. and Union Street is occupied, in large, by the two Aeros properties, the company's headquarters and the Center of Innovation; an adjacent property was opened on March 12, 2012 with Congresswomen Judy Chu, Linda Sanchez and Grace Napolitano on hand for the ribbon cutting ceremony. City of Montebello Mayor, Dr. Frank Gomez, represented the City of Montebello on that day. The change will become effective on September 1, 2013.
At the May 29th City of Montebello Council meeting, Aeros V.P., Fred Edworthy thanked Montebello Mayor Christina Cortez and Council for their support in recognizing Aeros, and promised that the name change will help to raise the profile of Aeros and in turn the City of Montebello, explaining the planned growth for the development and production of the 66 Ton Aeroscraft that will be accelerated this year. Mr. Edworthy also gave recognition and thanks to the neighboring businesses for their concurrence and help in accommodating the name change.
After the vote Montebello Councilmember Jack Hadjinian spoke on the record; "Aeros is developing an amazing technology for air cargo transport, and as a City we must encourage and assist Aeros to grow and expand within our community."
Mr. Igor Pasternak, Aeros CEO stated; "Aeros is excited and grateful to our City and neighbors for making our street name change possible; we are both honored and humbled by the commitment shown by our City. We will work hard to live up to our responsibility of a good citizen of the City of Montebello"
Media interested in arranging interviews should contact media(at)aeroscraft(dot)com, or PR via the contact information below.
About Aeroscraft: An Aeroscraft is a new type of Rigid Variable Buoyancy Air Vehicle, designed to control lift in all stages of air or ground operations, including the ability to off-load heavy payloads without the need to re-ballast. For the first time in history, an aircraft has been designed to control and adjust buoyant and dynamic lift, creating a new paradigm for air transportation and logistics. Poised to enhance the air transportation industry, the Aeroscraft will deliver opportunities for business and consumers globally by access to remote locations and by new cargo delivery capabilities. The key features of the Aeroscraft include a rigid structure, vertical takeoff and landing, and operational abilities at low speed, in hover, and from unprepared surfaces.
About Worldwide Aeros Corp. (Aeros): In 1987 Igor Pasternak founded Aeros and advanced the company from a small advertising aerostat production manufacturer in the Ukraine to a premier airship producer and R&D firm for the aerospace industry based in the United States. Through their exceptional manufacturing quality, Aeros has achieved multiple FAA airship type certificates and operates with an FAA Production Certificate. Throughout the years, Aeros has become a premier airship producer and research and development firm for the aerospace industry for a commitment to quality engineering, production and client satisfaction. Aeros currently boasts an extraordinary product line that includes the most advanced airships and tethered aerostats utilized in commercial and government applications throughout the world. For the past quarter century, Aeros has pioneered new product advancements in the aerospace defense technology sector, which has been a strong contributing factor in maintaining continuous corporate growth. The entire Aeros organization and the advisory board, comprised of military and commercial leaders, are dedicated to one goal of harnessing the exciting future and opportunities ahead. All Aeros team members are focused on meeting the rapidly rising demand for oversized cargo transportation solutions.
# # #
Aeros
John Kiehle, Director of Communications
(323) 201-8374 or john.kiehle(at)aeroscraft(dot)com