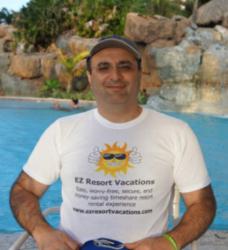 This company was created by a timeshare owner and a renter for timeshare owners and renters. Our service offering equally protects interests of both parties in a rental transaction.
Mineola, New York (PRWEB) June 07, 2013
EZ Resort Vacations, Inc., a New York-based start-up specializing in timeshare rentals, launches its online operations at http://www.ezresortvacations.com. "Our mission is to simplify a timeshare rental process that is unnecessarily complicated these days. We want renters and owners to be able to rent timeshare units without spending hours doing it and worrying about being a victim of fraudulent activities. We are trying to make this process as close to an ordinary hotel reservation process as possible," said Dr. Isaac J. Gabriel, the founder of EZ Resort Vacations, Inc. This mission clearly explains the "ez" part in the company's name.
The company's offering consists of an easy-to-use and intuitive web site interface as well as a proprietary and automated rental process that significantly simplifies a timeshare resort rental experience for both parties. Timeshare unit owners can list their properties for as low as $19.99 with the right to a full refund of the listing fee provided that their timeshare listing did not generate any interest, communication, or leads from potential renters prior to the listing's expiration or cancellation. Owners and renters can use electronic rental agreements for free as well as enjoy free processing of rental transactions. Additionally, electronic and instant price negotiations with minimal interaction with the other party are a part of the service offering as well.
The service offering also provides low-priced and automated escrow services for rentals. Escrow services protect users against the other party's fraudulent behavior, thus, enable users to mitigate risk associated with timeshare rental transactions. Furthermore, automation of the escrow service makes it easier and more transparent for both parties to deal with and removes a time-consuming overhead present in traditional escrow services. "We would like to make timeshare rental escrow services so affordable for both parties, so that it becomes a de facto standard in timeshare rental transactions. Our online service offering is a win-win situation for both, renters and owners. Let's not forget that this company was created by a timeshare owner and a renter for timeshare owners and renters. Our service offering equally protects interests of both parties in a rental transaction", emphasized Dr. Gabriel.
Besides the web-based timeshare rental system, the company's web site offers various timeshare rental tips and suggestions. A rich set of frequently asked questions is available on the web site as well as knowledgeable support representatives are readily available to answer phone calls during business hours. As Dr. Gabriel says, "An educated consumer is the best consumer any company can ever have."
About EZ Resort Vacations:
EZ Resort Vacations, Inc. is a New York-based corporation that provides a web site interface and services to make it easier, worry-free, secure, and cost-effective for both, owners and vacationers, to rent timeshare resorts. The company was founded by a timeshare owner and a renter and an expert in web site development and e-commerce marketing, Dr. Isaac Gabriel, in 2011. EZ Resort Vacations helps timeshare owners and vacationers to rent timeshares by providing them with a proprietary rental process, a web site interface, and a supporting back-end computer system. Services offered by EZ Resort Vacations allow for an easy timeshare rental process. The company's offering also enables both parties to negotiate prices instantly on the web site, alleviates stress and aggravation involved when dealing with unknown parties, significantly minimizes the likelihood of becoming a victim of financial fraud, thus, ensuring a secure timeshare rental experience. Finally, substantial cost savings that timeshare owners and vacationers are able to realize by using the company's services, allow for discounted timeshare rental offerings. The company launched its online services in June 2013. More information can be obtained on the corporate web site at http://www.ezresortvacations.com. The company can be contacted via email at pr(at)ezresortvacations(dot)com.