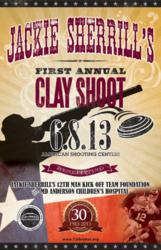 HOUSTON, TX (PRWEB) June 05, 2013
Jackie Sherrill's 12th Man Kickoff Team Foundation is set to host the Inaugural Charity Clay Shoot, Saturday, June 8, 2013 in Houston, Texas, benefitting The MD Anderson Children's Cancer Hospital and the 12thmkot Foundation.
Coach Sherrill and Former Players will be on hand to sign the book "No Experience Required", the story of the 12th Man Kickoff Team. A Silent and live auction is scheduled that will include sports memorabilia, sporting goods and other items.
All sponsorship levels are available and we incourage signing up asap.
About us:
Created in 2007, the 12thMKOT® Foundation is a non-profit organization that provides scholarships to Texas A&M University students. The Foundation's members make charitable appearances across the state, touching A&M clubs, children in hospitals and other community activities where people need a smiling a face and a helping hand.
"This event really is what the Foundation's all about: Aggies helping Aggies and Others in need," says Foundation President, Dan Leyendecker. "Pulling together to celebrate and help others; it truly is what Texas A&M University and this Foundation stands for."
The 12th Man Kickoff Team Foundation is a 501c3. All donations are tax deductible to the amount allowed by law.