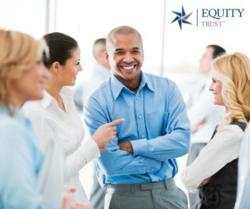 Over the next six months, Equity Trust Company—a leading custodian of non-traditional investment savings accounts, will be adding over 50 positions in various operational capacities for its Cleveland area-based team
Cleveland, OH (PRWEB) June 06, 2013
A growing financial company is seeking motivated job seekers for operations positions that offer continuous education opportunities and regular work hours.
Over the next six months, Equity Trust Company—a leading custodian of non-traditional investment savings accounts, will be adding over 50 positions in various operational capacities for its Cleveland area-based team as a result of the company's continued growth.
Among other duties, the Operations Department employees will:

Set up new accounts and initiate new transfers from other custodians
Use appropriate details and tools to correct information or deficiencies
Ensure timely processing of requests and transfers and payouts
Accurately assess fees upon opening a new account
Process investment instructions regarding purchases, redemptions, and other relevant investment transactions
Provide answers to clients regarding account balances, tax inquiries, and alternative investment questions
Candidates are not required to have prior experience in the retirement savings account industry; employees go through on-the-job training, including targeted classroom and practical experience with shadowing and mentored training on the floor.
The positions will temporarily be located in Equity Trust's Elyria or Berea locations until the company's new facility opens later in 2013. The renovated building will be located in Westlake and will feature several amenities for employees, including a gym, cafeteria and an outdoor walking trail. It is just one of the perks Equity Trust offers employees, in addition to opportunities for internal promotion and an atmosphere that encourages a healthy work-life balance.
Recruiters have begun the process of screening applicants and scheduling live candidate interviews, which will continue on a rolling basis until the positions are filled. Candidates must apply through the Equity Trust Careers website to be considered. View the job listing for each of the Operations Department positions for more details.
Operations Associate Transfer of Assets
Operations Associate Public Processing
Key Account Relationship Manager
For more details on these and other open positions at Equity Trust along with what it's like to work at the company, visit the Equity Trust careers website at http://www.TrustETC.com/careers.
About Equity Trust Company
Equity Trust Company, with its corporate headquarters in the Cleveland, Ohio area and operations in Sioux Falls, South Dakota, is at the forefront of the self-directed retirement plan industry. The company specializes in the custody of alternative assets in self-directed IRAs, Coverdell Education Accounts, Health Savings Accounts and qualified business retirement plans. Along with its affiliates, Equity Trust provides services to more than 130,000 individuals and businesses nationwide with approximately $12 billion in assets under custody. Since 1974, the company and its affiliates have helped investors make tax-free profits through education, innovation, and a commitment to understanding individual needs. Visit TrustETC.com for more information.
##