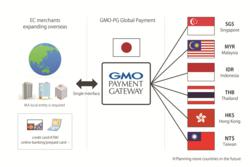 Singapore (PRWEB) June 07, 2013
GMO Internet Group company, GMO Payment Gateway Pte. Ltd. is preparing to launch global payment service, GMO-PG Global Payment in October this year. The new service will enable Japanese ecommerce stores and digital content providers to accept payment in local currencies, using trusted local payment methods, managing transactions around the world from a single user interface.
GMO Payment Gateway Pte Ltd is the Singapore-based subsidiary of online payment solutions company, GMO Payment Gateway, Inc. (TSE: 3769).
GMO-PG provides online payment solutions to ecommerce merchants in Japan. Currently, merchants who conduct transaction outside of Japan can accept credit card (processed in Japanese yen) and PayPal transactions, as well as Alipay transactions for China,
However, as the ecommerce industry grows, and more and more Japanese businesses look to expand globally, GMO-PG customers are increasingly interested in payment practices and cultures in other countries, in particular in South East Asia, and we are seeing demand for international payment solutions. We now recognize that Japanese merchants want to be able to offer their global customers the option to select a payment method that is familiar and trusted, and have their payment processed in their own local currency.
GMO-PG Global Payment was developed in response to this demand, and in December 2012 GMO-PG Singapore was established to deliver the new global payment solution and to become a hub for the company's international business.
Set to launch in October this year, GMO-PG Global Payment will first focus on online payment processing for South East and East Asian markets including Singapore, Malaysia, Indonesia, Thailand, Hong Kong and Taiwan partnering with major payment processing providers in each local market. Going forward, we will continue to expand the service by forming new partnerships in new markets.
GMO-PG Global Payment offers Japanese ecommerce merchants the following benefits:

Manage multiple payment methods in multiple markets and local currencies from a single user-interface – no need to search for local providers and negotiate individual contracts in each market.
Business support from negotiations through to operation through local experts in each market.
Revenues processed in local currencies to minimize exchange rate risk and reduce bank charges.
Promotion, marketing and logistics solutions provided by local partners
About GMO Payment Gateway
GMO Payment Gateway, Inc. (TSE: 3679) is a credit card payment processing service provider offering solutions including online transaction processing for online stores, social and smartphone content sellers, and processing of recurring payments NHK television license fees. The company also provides dedicated payment solutions for public institutions including Japan Pension Service and Tokyo Metropolitan Government. Our services are safe and convenient for both business and the consumer. As the largest payment processing service in Japan, GMO Payment Gateway is an innovation leader and key contributor to the growth and development ecommerce. Please visit http://corp.gmo-pg.com/company_en for more information.
GMO Payment Gateway, Pte. Ltd. was established in Singapore in December 2012 as a wholly-owned subsidiary of GMO Payment Gateway, Inc. and the headquarters for GMO-PG's global business.
About GMO Internet Group
GMO Internet Group is a comprehensive provider of industry-leading Internet solutions including domain name registration, cloud-based and traditional hosting, ecommerce, security, and payment processing services that each hold the top share of their respective markets in Japan. Other key business areas for the Group include online securities/FX trading, Internet advertising, search engine marketing and online research, and smartphone game development and publishing. GMO Internet, Inc. (TSE: 9449) is headquartered in Tokyo, Japan. Please visit http://www.gmo.jp/en for more information.