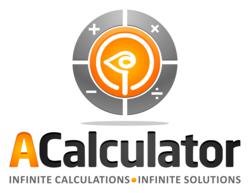 (PRWEB) June 10, 2013
acalculator.com, a website that offers more than 300 free-to-use financial calculators delights auto loan holders and prospective car buyers by presenting a whole set of auto financing calculators. Like all other calculators on the website, auto calculators are also free to use. However, users may also opt for a subscription that allows them to use customized calculators for their own website.
Currently the list of auto calculator present on the website includes a calculator for Auto Loan Early Payoff, Auto Rebate vs. Low Interest Financing calculator, Bi-weekly Payments calculator for an Auto Loan, Dealer Financing vs. Credit Union Financing calculator and Lease vs. Buy calculator among others. According to the spokesperson for acalculator.com, the company plans to further extend the list in the near future.
The spokesperson also shared some important points regarding acalculator's auto calculators. He said, "We wanted to identify specific financial problems faced by the majority and answer each of them separately and specifically. As for auto finance, cars and vehicles are mostly the second biggest investment a person makes after home. A little mismanagement can go a long way and leave a heavy dent on your overall personal finances."
The auto financing calculators are not just limited to the US citizens. Acalcualtor.com serves auto loan holders from the USA, Canada and Australia. Due to difference in financing laws and programs in these countries, there are separate list of calculators for each of them. Australian users can find a number of auto financing calculators in AULoans list, while Canadian citizens, on the other hand, will be able to find hundreds of calculators available in English and Canadian-French as well.
Website visitors can use these calculators directly on acalculator.com or choose to use it on their website in order to increase traffic and leads. In order to help its clients improve branding, acalculator allows its clients to customize each calculator for their website. A small subscription fee is charged for customization. "Our easy to use auto-calculators will help website owners improve branding and online credibility," adds the spokesperson.
Other than auto finance and loan calculators, acalcualtor.com presents calculating tools for mortgages, retirement plans, savings, tax, etc. The spokesperson ensured that all the calculators are regularly updated in lieu of change in respective laws and policies. In order to learn more about auto financing calculators available on the website, please visit http://www.acalculator.com.
About acalculator.com
acalculator.com is a newly launched website that offers budgeting and financial calculation tools for free. The website currently features 300 different calculators ranging from mortgage calculator to long term care calculator. The website caters to users from USA, Canada and Australia by providing them essential tools to help them plan their financial future. To contact them, please use the following details.
Contact details:
Web: http://www.acalculator.com
Phone: 123-456-7890