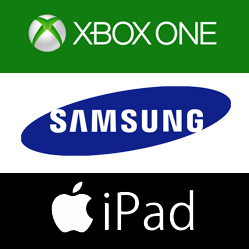 Improved trade in values will see more consumers exploring recycling solutions, thus preventing possible environmental implications caused by such e-waste
Bournemouth, Dorset (PRWEB UK) 10 June 2013
Check out the infographic data here.

Trade-in values of all games consoles rise by 18.79% following Xbox One announcement
Samsung Galaxy S4 makes debut in top 20 most traded phones, despite April release
iPad trade-ins increasing as rumours of a new full-sized iPad and iPad Mini emerge
Following the booming success of Galaxy S4 sales, Samsung continued to eat into the trade-in market share throughout May, according to leading mobile phone recycling comparison site CompareMyMobile.com. Samsung now hold 16.1% of the market, compared to BlackBerry's 18.1% share and Apple's lead with 40.4%. This reflects the massive success of the Galaxy S4, which recently passed the 10 million unit sales mark.
Top 5 brands being traded-in:
1. Apple: 40.4%* of trade-in market share
2. Blackberry: 18.1%* of trade-in market share
3. Samsung: 16.1%* of trade-in market share
4. HTC: 8.4%* of trade-in market share
5. Nokia: 8.3%* of trade-in market share
*percentage of all branded devices traded in (May 2013)
Trade-ins of the Galaxy S2 and S3 have both increased again by 3.2% and 3% respectively as people upgrade to the most recent handset.
But it isn't just the existing Galaxy range which are proving to be popular trade-ins. According to site data, the Samsung Galaxy S4 has entered the list of top 20 phones being traded in for the first time. This shows that people are selling and upgrading to different devices already – despite it only being released in April. Could the widely reported storage issues with the phone be causing people to sell?
CompareMyMobile.com reported a similar trend with the iPhone 5 last month, as it hit the top 10 most traded list, actually peaking at the #1 position for 3 days in May.
Top 6 phones being traded-in in the last 30 days:
1. Apple iPhone 4 16GB: 9.79%*
2. Samsung Galaxy S2 i9100: 5.18%*
3. Blackberry Curve 8520: 5.15%*
4. Apple iPhone 4S 16GB: 4.86%*
5. Samsung Galaxy S3: 3.51%*
6. Apple iPhone 5 16GB: 2.82%*
*percentage of all phones traded in (May 2013)
It seems that people who aren't entirely happy with their phones are trading in now while the values of the devices are still high.
Top 5 most valuable phones:
1. BlackBerry Porsche Design P9981: £360
2. Samsung Galaxy S4: £355
3. Apple iPhone 5 64GB: £317
4. Apple iPhone 5 32GB: £305
5. Apple iPhone 5 16GB: £295
Phones continue to be the most traded-in gadget on CompareMyMobile.com but there have been noticeable differences in other device categories.
Apple's iPad has seen a rise in trade-ins shortly after rumours began to circulate about a possible redesigned full-sized iPad and iPad Mini later in the year.
Top 5 traded categories:
1. Phones: 83.70%*
2. iPods: 8.66%*
3. iPads: 5.14%*
4. Tablet/Kindle: 1.57%*
5. Games Consoles: 0.58%*
*percentage of all gadgets traded in (May 2013)
Games consoles have also seen an unusual rise in trade-in value following the announcement of the new Xbox One last month. Values across the brands have increased by 18.79% since May, as recyclers encourage gamers to sell on their old consoles.
CompareMyMobile.com's director Ashley Turner says: "It's great news to see the overall value the consumer sees for a non-mobile recycling category increase. An external survey conducted in 2012 reported that Brits have over 12 million unused games consoles – improved trade in values will see more consumers exploring recycling solutions, thus preventing possible environmental implications caused by such e-waste volumes."
Top 5 categories losing value:
1. Phones: 8.51% decrease
2. MacBook/Mac: 7.65% decrease
3. Tablet/Kindle: 7.47% decrease
4. iPads: 3.07% decrease
5. Laptops: 0% decrease
About CompareMyMobile
Founded in 2009, CompareMyMobile.com is the UK's #1 source for independent mobile phone, tablet, sat nav, laptop, iPad, iPod and games console recycling price comparison. It delivers customers confidence in making the difficult decision of where to recycle their old phone safely and for the most money. CompareMyMobile is 100% impartial, comparing prices from more than 40 recycling stores.
*Data compiled by CompareMyMobile.com from the period 01/05/13 – 31/05/13
*Pricing current data as of 01/05/13
*Live pricing available from CompareMyMobile.com
Media contact:
Ashley Turner
Marketing Director
CompareMyMobile.com
Email: ashley(at)comparemymobile(dot)com
Telephone: (+44) 7590 116 943