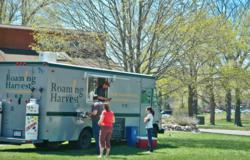 We think it's going to bring a lot of spirit to our city.
Traverse City, MI (PRWEB) June 11, 2013
Long known for its scenic beauty and recreational bounty, the Michigan resort community of Traverse City has also been attracting attention as one of America's most unique culinary destinations, thanks to fans like celebrity chef Maro Batali, and was named one of the country's Top Five Foodie Towns by Bon Appetit.
But for all its restaurants, wine bars and brewpubs, the town has lacked one key ingredient of a vibrant urban food scene: good, cheap street food.
Until now.
After months of heated debate, local officials agreed this spring to make it easier and less expensive for mobile food vendors to operate in the city. Almost immediately, a half-dozen food truck operators announced that they were setting up shop in Traverse City's shady downtown district — and a pair of transplanted New York restaurateurs has even opened a bar whose parking lot serves as a base for the trucks and their customers.
The community's first food truck, Roaming Harvest, is operated by Simon Joesph, a passionate advocate for locally grown cuisine and street food. Like a farm-to-table restaurant, its menu changes daily and features local breads, meats, dairy, fruits, vegetables and jams. Bouyed by the city's new acceptance of what he calls "mobile restaurants," Simon has bought a second vehicle, named Little Yella, that will offer lighter items — simple sandwiches, salads and curries — than its older brother.
Other pioneer food trucks include King Wubbz Pita Dubz, the brainchild of local foodie Brian Welburn and Curbie, a 1946 Ford drafted into service in 2012 by Sam Porter, organizer of the Traverse City Microbrew & Music Festival and several other food-themed events. (The brightly painted truck is operated by a staff of student interns, serving locally made sodas, ice cream and dishes from whitefish tacos to paella, at special events and downtown festivals.)
Those early arrivals operated in uncertain waters, never sure if they were about to be regulated or taxed out of business, until city officials hammered out an agreement this spring that gave them more permanent status. The new regulations established regular hours of operation, delineated zones where the trucks can operate, and reduced permit fees from $100 a day to as little as $725 annually.
The new policy wasn't embraced by everyone in the city's culinary establishment. Owners of some downtown restaurants complained that the mobile eateries had an unfair competitive advantage, since they were exempt from high property taxes and could simply shut down when cold weather thins out the pool of customers.
But even before the policy was hammered out, Gary and Allison Jonas – who created the popular Brooklyn eateries Sycamore and The Farm on Adderly before moving to Traverse City, announced that they were turning a former party store into The Little Fleet, a full-service bar whose food service is being largely provided by the food trucks they've invited to open up shop in their parking lot.
The Jonas' customers will be able to buy meals outside – from trucks or from nearby restaurants – and either bring them indoors to the bar or enjoy them in an outdoor patio. With heat lamps and other amenities, the couple is even hoping to keep the street food scene chugging along through Traverse City's sometimes harsh winter months.
"We think it's going to bring a lot of spirit to our city," they said.
Almost all the new food trucks involved the venture are owned or operated by existing Traverse City restaurateurs. They include Anchor Station from Michael Peterson, owner of Siren Hall and Lulu's Bistro; The Dragon Wagon, an Asian-flavored entry from Dan Marsh, owner of Red Ginger; EZ Cheesy, operated by Kim Ryan, formerly of The Cooks' House and the Om Café; and Pigs Eatin' Ribs, from chef Adam Kline, who pioneered the street food scene in neighboring Charlevoix.