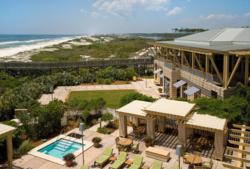 Santa Rosa, FL (PRWEB) June 07, 2013
WaterColor Inn & Resort's list of accolades and awards keeps growing. The most recent is the prestigious 2013 Four-Star Rating by Forbes Travel Guide. The WaterColor Inn & Resort has been AAA Four-Diamond Rated for the last seven years and is extremely honored to have both the Forbes Four-Star rating and the AAA Four-Diamond rating in 2013.
"We're delighted," said Patrick Murphy, (his title at St Joe). "This award re-enforces what we already know: the service and amenities are in line with the guest's expectations. The Forbes standard for a Four-Star Resort encompasses everything WaterColor Inn & Resort strives for with each guest."
Forbes describes a Four-Star Resort as -provides a distinctive setting, with many interesting and inviting elements to enjoy. Attention to detail is prominent throughout the property, from design concept to quality of products provided. Staff is accommodating and takes pride in catering to specific needs".
WaterColor was rated in several categories from the first contact of a reservation call to the last comment as the guest departs the property and all departments were rated as delivering Four- Star service. "The Forbes Travel Guide annual Star Awards represent the best in class in luxury hospitality. Travelers seeking exceptional experiences rely on our ratings to guide them to the world's finest hotels, restaurants and spas," said Michael Cascone, President and COO of Forbes Travel Guide.
About WaterColor Inn & Resort
WaterColor Inn & Resort has a long list of awards and accolades and most recently has been selected in 2013 as a Conde' Nast Travelers -Readers Choice "Gold List" recipient and a 2013 "Platinum Circle" recipient. Also awarded in 2013 the AAA Four-Diamond rating for both the WaterColor Inn and Fish Out of Water restaurant. The InnSpa received #19 in the 2013 Conde Nast Travelers, "Readers Spa Poll" for North America.
The WaterColor Inn & Resort offers luxurious accommodations at both the exclusive 60 room Inn and well appointed residences and charming cottages. The resort has award-winning dining at Fish Out of Water, a full service spa, Kids Camp, golf, tennis, biking, kayaking and fishing. WaterColor Inn & Resort is managed by Seattle-based Noble House Hotels & Resorts and developed by The St. Joe Company. For more information about WaterColor visit http://www.watercolorresort.com or call 866-426-2656.
About WaterSound Beach
WaterSound Beach is a 256-acre gated residential community sitting directly on the Gulf of Mexico, along Scenic Highway 30-A between Camp Creek Lake and Deer Lake State Park in Northwest Florida's South Walton County. Developed by the St. Joe Company, it stretches for a mile along the Gulf Coast's crystal white sands and emerald waters, with pedestrian bridges and footpaths linking the community are various neighborhoods, complemented by the property's dramatic dunes and lush, natural spaces. Amenities include the private WaterSound Beach Club, with a 7,000 square foot free-form swimming pool and seasonal Duneside Grille.
Two miles east of WaterSound Beach is Camp Creek Golf Course, a private, 18-hole, par 72 championship course configured by renowned designer Tom Fazio. For WaterSound vacation rentals, call 800-413-2363 or visit http://www.watersoundvacationrentals.com.
About Camp Creek
Since opening in 2001, Camp Creek has been consistently cited as one of Tom Fazio's most thought-provoking, aesthetically-stunning design credits. Featuring a unique "dunescape" appearance, the layout is framed by sand dunes and native grasses. From the back green tees, the course plays to a championship caliber yardage of 7,159 and a formidable slope rating of 152 (one of the highest in the state). Camp Creek's five-tee configuration, which also includes gold (senior) and red (women's) tees, accommodates players of all skill and experience levels. It is ranked among the top courses in the state by Golfweek, GOLF Magazine and Golf Digest. It has also been recognized for its environmental stewardship through designation as a Certified Audubon Cooperative Sanctuary by the Audubon Cooperative Sanctuary System (ACSS). Superintendent Larry Livingston was similarly distinguished as a certified Audubon Steward. Camp Creek is operated by Troon Golf, the leader in upscale golf course-management.
About Shark's Tooth
Designed by Greg Norman and voted the second best new private course by Golf Digest in 2002, Shark's Tooth Golf Club was purchased by The St. Joe Company to bolster its high-end, golf course holdings. The course stretches to 7,204 yards from the back tees and features five fairways that border scenic Lake Powell, two holes that play toward the water and numerous wooden cart path bridges that cross over streams and estuaries. Tucked among the oaks and pines along the shores of the historic lake, which has been designated an Outstanding Florida Waterway, Shark's Tooth is a challenging course that co-exists with its surroundings. Grass from the Greg Norman Turf Company was used on the fairways, approaches and rough. The course is a Silver Signature Sanctuary Course as accredited by the Audubon Signature Program and is operated by Troon Golf, the leader in upscale golf course-management.
About St. Joe
The St. Joe Company, a publicly held company currently based in Santa Rosa Beach, is one of Florida's largest real estate development companies and Northwest Florida's largest private landowner. St. Joe is primarily engaged in real estate development and sales, with significant interests in timber. More information about the Company can be found on its website at http://www.joe.com.