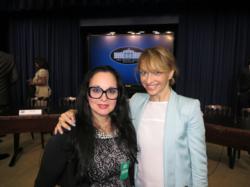 too many startups and small businesses who desperately need to raise capital are not even aware about the crowdfunding option
Washington, D.C. (PRWEB) June 06, 2013
Ruth E. Hedges, founder and principal of Unismart Capital Software, Inc. and creator of Crowdfundingroadmap.com attended the Champions of Change ceremony on June 4th, 2013 at the Eisenhower Executive Office Building at the White House. The Champions of Change program recognized people across the country who are involved in strengthening their communities and creating jobs through crowdfunding.
Featured at the event were entrepreneurs who exemplify the promise of crowdfunding to finance startups, small businesses, and innovative projects across the country. By leveraging their social networks, entrepreneurs raise capital to start the new businesses that will fuel the growth of new jobs and prosperity.
Ms. Hedges was active in the legislative drive to pass the Startup Exemption outlined in the JOBS Act, and has since participated in the development of best practices to ensure compliance and transparency in the process.
"The rapid growth of rewards and donation-based crowdfunding has been breathtaking" says, Ms. Hedges. "As soon as the SEC issues operational rules, newly empowered small investors can become stakeholders in the robust growth that will result in more jobs and prosperity, as long as we do a better job at creating awareness and education for these entrepreneurs about this new way of raising capital."
Government agencies like the SBA, SBDC and SCORE need to step up and take a more active role in providing education and assistance across the country. There are too many startups and small businesses who desperately need to raise capital and are not even aware about the crowdfunding option let alone how to run a campaign and be successful at raising money this way.
Beginning on July 12th, Ruth will be teaching the first-of-its-kind university course on equity-based Crowdfunding, at the UNLV Division of Educational Outreach. The course will provide participants with practical knowledge and effective strategies for creating, planning and managing a successful Crowdfunding campaign. Based on the collective insights and real-world experiences of Crowdfunding experts, this in-depth program will include live (via-Skype) appearances from various industry thought-leaders.
About Crowdfundingroadmap.com
Crowdfundingroamap™ is the first standardized business plan and due diligence reporting system and crowdfunding campaign best practices builder. A comprehensive, sharable, collaborative cloud-based platform which guides you through all of the steps to create your compliant campaign disclosure material and social capital and store it securely ahead of time before launching your campaign. It has been hailed as the go-to solution for funding portals entering the equity crowdfunding marketplace and entrepreneurs looking to raise capital.
CrowdfundingRoadmap™ offers crucial elements in the development of the equity crowdfunding ecosystem, to protect investors, including a Dealflow Hatchery™ to help entrepreneurs prepare for the immanent regulatory green light, and correctly match up with the perfect pre-screened funding portal and or broker dealer. Ruth Hedges is also the creator and producer of the 2nd Annual Global Crowdfunding Conference and Bootcamp™, the largest gathering of key players and participants in the crowdfunding movement worldwide, to be held this October in Las Vegas.
Additional information can be found at:
Crowdfundingroadmap.com/bootcamp
Crowdfundingroadmap.com/education/
or by calling 877-780-8955
This information is being distributed for the client, by Philip Cardwell at Universal Media Consultants. From top magazines to leading TV stations, UMC has been very effective at distilling client's messages in the major national media. The aim is simple. To multiply message impact and client exposure in highly targeted markets, quickly, imaginatively, and cost-effectively. UMC also offers advertising for Crowdfunding. For more information visit: http://www.universal-media-consultants.com