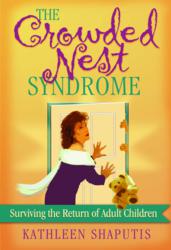 "We woke up one morning wondering who left the front door unlocked, letting everyone move back." — Kathleen Shaputis
Centralia, WA (PRWEB) June 10, 2013
Wednesday, June 12, is Crowded Nest Syndrome Day. What is Crowded Nest Syndrome? Sounds like a lifetime movie, doesn't it, with a dramatic soundtrack? CNS strikes when a home, or nest, includes more than two post-parental figures. A crowded nest can involve returning adult children, taking care of aging parents, raising grandchildren, or any other relatives or friends who move in due to unforeseen circumstances.
In today's tough economic times, more and more adult children are finding it hard to acquire decent jobs and are returning home temporarily either unemployed or under-employed. According to recent statistics, adult children are returning home in alarming numbers. In fact, the latest U.S. Census data reports one out of four (27%) 18 to 34 year olds are living with their parents. Credit card debt, exorbitant student loans, and decreasing numbers of well-paying jobs are squeezing this generation back to their parents, sometimes called the Boomerang Generation.
The woman who created this holiday is Kathleen Shaputis of Olympia, Washington. Even as a child, Shaputis dreamed of living alone and writing books. As an adult, she became a mother with a career, waiting for the day of an empty nest and able to write in peace. Then something unexpected occurred.
"We woke up one morning wondering who left the front door unlocked, letting everyone move back."
Ever a person to turn life into a story, Shaputis is now the self-proclaimed psycho-social leader of a movement consisting of countless thousands of Baby-Boomers who have found themselves sharing their homes with their now adult children and/or aging parents.
As well as creating the holiday (June 12 is her husband's birthday) Shaputis published "The Crowded Nest Syndrome," a survival guide of anecdotes and tips for fellow CNS sufferers back in 2004. Self-publishing her book, Shaputis used Gorham Printing, short-run book printer in Centralia, Washington in designing the cover and text layout of this humorous look at the return of adult children and has printed over two thousand copies with them. In an inspiring, humorous and sometimes off-beat narrative non-fiction, "The Crowded Nest Syndrome" will help countless parents cope with the return of adult children as well as offer advice to those with offspring who are still too young to vote.
Those who don't live in a crowded nest should be grateful this upcoming holiday. Those affected by the syndrome need to vacate themselves out to dinner or at least out of the house for some peace and quiet.
You Know You're Living in a Crowded Nest When…
—Your other car is a U-Haul.
—You have to take a number to use the bathroom.
—There's a waiting list for the washing machine.
—The fire department pulls your occupancy permit.
—You go to use your car in the morning and the gas tank is empty.
—$250 worth of groceries disappears in less than 24 hours.