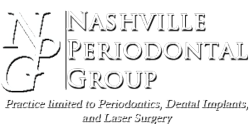 Nashville, TN (PRWEB) June 07, 2013
Nashville Periodontal Group now provides the Laser Assisted New Attachment Procedure (LANAP) to help patients with advanced periodontal disease and missing teeth qualify for dental implants. By using LANAP, Drs. Bill Akin, Brian West and Will Akin clean up unhealthy gum tissue and then prepare it for implants. Before a patient with gum disease can receive a dental implant, he or she must have any gum disease removed. With the advanced technology of LANAP, doctors at the Nashville periodontal Group make implants possible.
Doctors have used dental implant technology for decades and studies show that patients who received dental implants in the 80s and 90s continue to report positive results with their implants. Studies have also shown that implants tend to last longer than the alternative treatments, such as dentures or bridges. In fact, fixed bridges and partial denture replacements have failure rates as high as 30 percent within five to seven years. Implants not only last longer, but they also help preserve the jawbone. Once they are in place, they can help provide stability and promote and maintain jaw health, much in the same way that natural teeth do. The doctors at Nashville Periodontal Group will consult with each patient to determine the best possible procedure for his or her individual implant needs.
Advances in dental technology such as LANAP have made it possible for just about anyone to be a candidate for implants, even those with advanced periodontal disease. Patients in Nashville can now get the gum disease treatment they need as Drs. Bill Akin, Brian West and Will Akin use LANAP in order to safely and effectively remove only diseased gum tissue. This procedure is 95 percent effective and once it has taken place, a patient is then ready for the actual implant process to begin. To learn more about dental implants and how Nashville Periodontal Group uses LANAP to treat gum disease, visit http://www.nashvilleperio.com for more information.
About The Doctors
Nashville Periodontal Group is a periodontal practice offering personalized dental care for patients in Nashville, TN. Drs. Akin and Dr. West are part of one percent of dental professionals providing the most recent FDA cleared laser procedure for gum disease treatment. Along with laser dentistry they have a strong focus on patient education on gums. To learn more about Nashville Periodontal Group and their dental services visit their website at http://www.nashvilleperio.com and call (615) 800-3686.