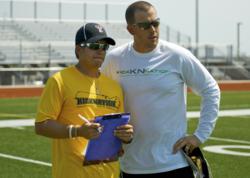 We are thrilled to have a partnership with a company that is dedicated to quality and results. -Chris Shaw
Dallas, Texas (PRWEB) June 11, 2013
Sports performance equipment brand King Sports Training will provide training equipment to KICKNATION and their summer recruiting tour according to King Sports founder, Bob King.
For the camp schedule go to KICKNATION.
"We are excited to be a part KICKNATION and their efforts to help young student athletes pursue the chance to play college football and receive a college education," says King. "This is an exciting process for athletes as they see their futures progress right in front of them. The recruiting process is getting more competitive each and every year, and we are glad to provide the training tools they need to succeed."
King Sports Training is a sports performance equipment brand that makes professional grade training equipment and provides training drills on their website. The King equipment line includes speed and agility tools; mini speed hurdles, over speed training bungees, cones and the speed ladder. All which can be purchased in a training kit.
"Speed and skill separates levels of competition, and the method at which you train makes a significant difference," says King. "We know Chris and the KICKNATION staff want to see their athletes succeed at what they do, and so do we."
KICKNATION president Chris Shaw has decades of experience when it comes to football training and knows what it takes to pursue a career in the sport.
"We are thrilled to have a partnership with a company that makes such a quality product," says Shaw. "The King equipment is a product I believe in and it gives our athletes exactly what they need to increase their training results."
The King Sports Training brand was built on the foundation set by Bob King and his success at the highest levels of multiple men and women's sports. This speed and agility equipment is currently used from the junior develop levels all the way up to professional athletes.
"In this day and age you have to use the resources available to stay ahead of the competition" says Shaw. "This is the equipment I use, and it is a definite game changer."
King Sports Training has recently lowered their online prices for the summer season.