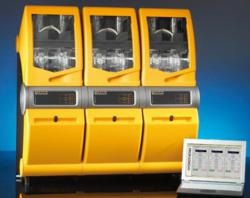 Goshen, NY (PRWEB) June 10, 2013
The study consisted of over one thousand data points from a multitude of different samples and matrices. Samples ranged from 6 different types of chips, 46 different types of meats and 33 different soups and sauces, each collectively totaling over one thousand data points. Collected data points are from the samples being tested two different ways using the Automated Acid Hydrolysis system and using the manual method or also known as (Mojonnier Method).
What was determined from this study was that not only does using the Automated Acid Hydrolysis system give higher percentages of fat but the study was done also monitoring the total amount of time to run samples, the amount of resources it took to run each sample and the safety measures needed for each method.
This study shows that when using the Automated Acid Hydrolysis method not only are you increasing the accuracy and precision of the fat determination but also nine out of 21 different food samples tested had higher fat recoveries. It also calculated that a total of seven minutes total time is saved with the use of the automated fat analysis. But besides the seven minutes the use of the automated fat analysis does not call for the amount on manpower using the manual (Mojonnier) method would require, allowing the lab technicians not to have to devote all their time on one test. This study also calculated a total of 22% cost reduction with the automated system. Although saving both time and money are reasons to use the system, the biggest reason would be safety. The automated system is a completely closed system decreasing the chances of lab technicians to come in direct contact with hazardous chemicals. This reduces the risk of injury inside the lab when using the automated fat analysis system. "The elimination of flammable hazardous waste allows the Hydrotherm…to be greener and more environmentally friendly." So not only is the system saving you both time and money, it is also allowing technicians to run other test utilizing their time more effectively inside a safe lab.
All of the details of this study have been published in the Lab Synergy's "Resource Center" found at http://www.labsynergy.com. They include a list of all data points received, as well as charts created to show a side-by-side comparison. If you would like to request more information about this system, please contact a technical representative at Lab Synergy by calling (866)435-7897 or email info(at)labsynergy(dot)com.
Labsynergy.com
374 Pulaski Hi
Goshen, NY 10924
(845) 258-1200