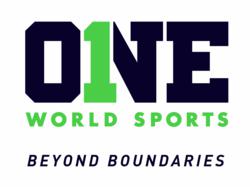 "We are executing on our longstanding vision of providing leadership and innovation in global sports programming," said Alexander "Sandy" Brown, president and CEO of ONE World Sports.
New York, New York (PRWEB) June 10, 2013
ONE World Sports today announced a major relaunch initiative for the global sports network, featuring a move to high definition signal delivery and a comprehensive new on-air, corporate and digital branding and graphics makeover.
ONE World Sports, which offers coverage of world-class sporting events from around the globe, will go HD on Aug. 1. On the same date, the network will debut a stunning new on-air look, involving new branding, on-air graphics and a first-of-its-kind global sports ticker.
"We are executing on our longstanding vision of providing leadership and innovation in global sports programming," said Alexander "Sandy" Brown, president and CEO of ONE World Sports. "We also plan to continue to add compelling new programming to our offerings at ONE World Sports. The move to HD and our highly differentiated, bold new graphics tee us up to drive our network to its next level of industry and consumer success."
In addition to the significant investment in converting to HD, adding preeminent on-air sports talent and new domestic programming, ONE World Sports will relaunch its website and introduce a new app for mobile streaming of its content. The completely redesigned website, developed by 2Advanced Studios, will serve up a much richer offering of video and original content. In parallel, an innovative sports-news ticker will become an integral part of on-air game graphics, delivering a dynamically updated information source that informs viewers on global sports happenings.
"The new branding, on-air graphics and website relaunch were designed to appeal specifically to our all-important target of millennials who are the most enthusiastic fans of global sports," Brown said. "We are confident that the bold, clear graphics together with vivid colors create a distinctive, contemporary brand that resonates with 18- to 34 year olds."
Programming additions include telecasts of seven homes games of the New York Cosmos, one of the world's most iconic sports franchises, along with an original series celebrating the legendary team's early history.
ONE World Sports' new graphics and network logo were produced by the Eyeball design agency. An accompanying tagline of "Beyond Boundaries" speaks to the promise of a truly global sports programming on ONE World Sports that takes viewers beyond normal boundaries of sports on TV today, both geographically and emotionally. Recent research shows that 72% of sports fans and 60% of millennials have a keen interest in sporting competitions beyond the U.S. boundaries.
The new logo ONE World Sports reflects a distinctive, contemporary look that will resonate with the network's target audience of 18– to 34-year-olds.
About ONE World Sports
ONE World Sports is an English-language network delivering exclusive, live world-class sports from around the globe. ONE World Sports fulfills fans' passion for premier match-ups of their favorite sports with more than 2,400 hours of unduplicated sports programming annually. Programming includes live and same-day action of leagues and competitions in soccer, basketball, baseball, golf, table tennis and badminton. The network is available on DISH, Cablevision's Optimum TV and Mediacom.
ONE World Sports is headquartered in New York City. Corporate parent ONE Media Corp. also owns ONE CONNXT, a global HD/SD broadcast video transport services provider; America ONE Television, a general entertainment and sports broadcast network; and America ONE Sports, a leading provider of live broadband sports.
About Eyeball
Eyeball is a creative strategic design agency based in New York City and Los Angeles. Its award-winning team efficiently translates brand ethos into engaging narratives and meaningful consumer dialogue, consistently generating quantifiable and powerful results. The agency has 20 years of broadcast and ad agency experience.
About 2Advanced Studios
2Advanced Studios, based in Aliso Viejo, Calif., is an interactive agency specializing in Adobe Flash design. It offers an array services including interactive design, development, CMS solutions, Ecommerce, motion graphics, 3D design, rich media, custom audio, video production, corporate identity and mobile applications.
# # #
For more information, contact:
Carl DiOrio
Bob Gold & Associates
p. 310-320-2010