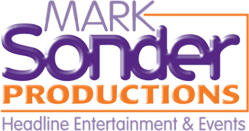 Without our repeat clients who continue to support our fine customer service we would not be here and we thank them so very much.
Washington, DC (PRWEB) June 18, 2013
Mark Sonder, who is a Master of Music, a Certified Special Event Professional and the Chief Entertainment Officer at the award winning worldwide event entertainment agency Mark Sonder Productions, Inc. is proud to announce that his company is celebrating 28 years in business.
Throughout his long career, Sonder, who authored the industry-wide accepted text, "Event Entertainment and Production," has contributed to a dozen other books and has presented seminars in countries all over the world. Sonder is quoted in multiple trade publications, and has authored many articles in own his industry's various trades publications.
Sonder, who has been a founding member of three professional trade associations, explains that, "As our company continues to grow in a contracting economy, we have just added The Temptations Revue: A Tribute feat. Hall of Famer Nate Evans to our roster, as well as another employee and summer intern."
"Our longevity stems from giving our clients what they are looking for - whether it be Jose Cid, the international pop/rock superstar from Portugal, or Joan Jett & The Blackhearts, or Blondie here in the U.S.," Sonder states. "We go above and beyond for every client, regardless of the need, time or location."
From working on major motion pictures on the big screen to various appearances on the small screen, and from holding the record for most amount of headline entertainers booked for a corporate event to sending out solo pianists for cocktail hours, Sonder has created careers in his 28-year experience.
"Without our repeat clients, who continue to support our fine artists delivered with great customer service, we would not be here and we thank them so very much," explains Sonder. After working with everyone from Frank Sinatra to Cher, from Gypsy and Sugar Babies on Broadway to the National Ballet of Marseille and Radio City Music Hall Christmas Show, to being on tour with the late Nelson Riddle and Linda Ronstadt, Mark Sonder has done business with some of the greatest artists and performers. Top 10 recording artist Eddie Money says, "Mark Sonder Productions is the industry expert. They are great to work with because they know all the ins and outs of the business."
Mark Sonder is also a Lecturer of Tourism Studies for the Masters of Tourism Administration degree program at The George Washington University in Washington DC. Because of his extensive experience and constant mentoring, Successful Meetings and Meeting News magazines have dubbed Sonder a Meeting Industry Guru.
About Mark Sonder Productions
Mark Sonder Productions, Inc. is an award winning entertainment agency for special events, meetings, conventions, trade shows, expositions, concert and casino facilities worldwide as seen in The Boston Globe; The San Francisco Chronicle; The Miami-Herald; United Press International; as well as on FOX and CBS Money Watch.
The talent agency enjoys both exclusive and non-exclusive relationships with headliners, musicians, comedians, theatrical productions and lecturers. Talent Buying: The company's 28 years of contracting has given the firm the knowledge and experience to represent clients and end users in a very strong position.
Mark Sonder Productions is a privately held company and has been proudly delivering excellent customer service to the U.S.A. and abroad since 1985.