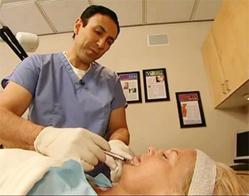 Los Angeles, California (PRWEB) June 10, 2013
According to a May 2013 W Magazine article titled "Under Your Skin," aesthetic medicine has advanced greatly, with new minimally invasive procedures becoming increasingly available, many of which take less than an hour to bring about a more youthful look. A wide variety of such procedures include the use of dermal fillers. (Go to goo.gl/FMAof)
"Some of the products and procedures covered in the article aren't new; I've been doing the Liquid Nose Job for several years," says Dr. Simon Ourian, Medical Director of Epione Beverly Hills. "Other products such as Juvéderm Voluma are still awaiting FDA approval."
According to the article, carbon dioxide is used to improve skin density. The procedure was first discovered in 1998, when carbon dioxide was injected into fatty and saggy thighs and bellies. This resulted in blood vessels dilating causing oxygen to rush to the thighs and bellies. With continuous use, the fatty areas looked tauter. Carbon dioxide therapy is also used to improve skin elasticity.
At the age of 60, according to the report, most people have lost a portion of their facial bone and fat causing their faces to sag. Reflation is a procedure that is used to pump up the volume of facial fat. A hyaluronic acid based filler is injected under the dermal layer and settles on top of the bone, pushing the skin up, especially under the eyes and around cheeks.
The article also included information on three new procedures. Boletero is a filler that can be injected into the roll of skin that surrounds the lips, giving lips a full look and eliminating vertical lines. Voluma can be injected beneath the muscle layer and molded into the preferred shape. This offers a scalpel free procedure to get more defined cheekbones and stronger jaw lines. Finally, LIPO-192 aims to melt belly fat in individuals with average weight. A tiny needle is used with a small quantity of medicine and involves no stinging, just a little bruising. The FDA has not yet approved this procedure.
"Overall, the article provides a nice overview of the most recent trends in injectable treatments," says Dr. Ourian.
Dr. Ourian has been a pioneer in laser technology and non-invasive aesthetic procedures including Restylane, Juvéderm, Radiesse and Sculptra. These treatments are used for the correction or reversal of a variety of conditions such as acne, acne scars, skin discoloration, wrinkles, stretch marks, varicose veins, cellulite, and others. More information about dermal fillers can be found on Epione's website.