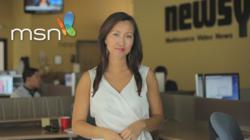 "Newsy develops original and engaging material that is unique to MSN News," said Matthew Milios, Lead Video Producer for MSN News.
Los Angeles, CA (PRWEB) June 18, 2013
Newsy, the award-winning multisource online and mobile video news network, announced a long-term editorial relationship with MSN to deliver customized video news to the millions of people who visit MSN each month. Topics include breaking news, politics, entertainment, crime, tech and science.
The Newsy and MSN editorial teams will collaborate around the clock to identify and offer relevant news with a fresh take. This integration will help Newsy's and MSN's editorial teams provide hundreds of engaging, advertising-friendly videos to the expansive MSN network per month.
Newsy is the premier and pioneering provider of breaking multisource online and mobile video news. By constantly scouring the world's news coverage, Newsy is early to spot developing events, compelling raw video and witness interviews. It has developed processes to rapidly produce short, sharable video packages that viewers find increasingly valuable. Marrying context and convenience, Newsy sees the fragmentation of news as an opportunity for innovative methods of storytelling.
Through the relationship, Newsy will help MSN meet the enormous and ever-growing demand for online and mobile video news.
"Newsy develops original and engaging material that is unique to MSN News," said Matthew Milios, Lead Video Producer for MSN News. "They are a valuable part of our video production strategy."
"The teams of editors at MSN and Newsy together will produce a revolutionary video news service for mobile and online," explains Newsy President Jim Spencer. "Relationships like ours represent the power of combining innovative content with global advertisers and distribution."
Both MSN and Newsy are committed to creating a compelling video experience for viewers and advertisers alike. Video is a key component of the web and mobile experience. Spencer explains, "Newsy will leverage its four years of mobile video knowledge and understanding to offer videos that can be delivered across all platforms of MSN's distribution network."
Newsy produces thousands of innovative videos per month. Those videos are distributed widely via its website, partner sites, syndication networks and mobile apps—generating more than one billion views annually.
About Newsy
Promising to make you smarter, faster, Newsy is a multisource video news service that highlights unique perspectives from across the media spectrum—offering a broader view in a concise format. Through engaging video news bites available on the web and mobile devices, Newsy provides you what you need to know about the day's events. Newsy has won two Appy Awards, a Davey Award and a W3 Award. Its highly rated free apps are available to download from the Apple App Store, Google Play, the Windows Phone Marketplace and the Nokia Store.