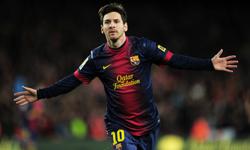 Battle of the Stars brings together a World Cup worthy group of 26 of the top football players from all corners of the globe to Los Angeles for a one time only
(PRWEB) June 09, 2013
Headlining Sponsor, El Padrino Spirits, Inc., LIVE and Todo Dias Entertainment to host international footballer Lionel Messi and 25 of the world's top soccer players in a once in a lifetime match, Battle of the Stars: Messi and Friends vs. The Rest of the World at the Los Angeles Memorial Coliseum on Wednesday, July 3, 2013 at 7:30p.m. Pacific Time. Tickets for this highly anticipated match are on sale now at http://www.ticketmaster.com.
Battle of the Stars brings together a World Cup worthy group of 26 of the top football players from all corners of the globe to Los Angeles for a one time only, all out battle of superstars. The Messi and Friends team is led by world famous Argentinean footballer Lionel Messi, and features Cameroonian National team central defender Alex Song, defensive midfielder Sergio Busquets of the Spanish national team and fan favorites Javier Mascherano of Barcelona and goalkeeper José Manuel Pinto also of Barcelona. The Rest of the World team is fronted by Olympic Gold Medalist and attacking midfielder Giovani Dos Santos, along with Manchester City favorite, Kun Aguero, Brazil National team winger, Robinho and Cruz Azul team captain, Gerardo Torrado.
"[Come] experience a memorable game with the best stars from around the world!"
-Lionel Messi
Complete roster of players: Messi And Friends team - Lionel Messi, Cesc Fabregas, Sergio Busquets, Alex Song, Javier Mascherano, José Manuel Pinto, Eric Abidal, Pablo Aimar, Marek Hamsik, Alvaro Pereira, Walter Gargano, DT Fabio Capello, and Gerald Pique; The Rest of the World team - Robinho, Giovani Dos Santos, Gerardo Torrado, Jesus Corona, Johnatan Dos Santos, Marco Fabiàn, James Rodriguez, Kevin Boateng, Antonio Cassano, Robert Lewandowski, Emiliano Insua, DT Zico, and Kun Aguero.
About El Padrino Spirits, Inc.:
Padrino Tequila originates from a private, family owned distillery in Guadalajara, Mexico with a long history and knowledge of the ancient agave plant. Our Blue Agave plants are planted, tended and harvested by hand with the utmost precision and care in the richest soils of Guadalajara. Padrino Tequila's proprietary formula and aging process is complex and precise allowing for the tequila to be aged to perfection. Padrino is 80 proof and never diluted with water to ensure maximum flavor and exceptional quality. Whether you like sipping it straight or with a mixer, Padrino's exquisite taste will never disappoint. Padrino Tequila is for the true connoisseur. http://www.padrinotequila.com
PRESS CONFERENCE: TUESDAY, JUNE 11TH - 12 NOON PST
AT THE LOS ANGELES MEMORIAL COLISEUM PERISTYLE
For further information about the match, please visit http://www.messiandfriendslosangeles.com
###
For More Information and Press Conference Credentialing Please Contact:
Ralina Shaw Public Relations
Ralina Shaw
310-306-6800 ext 710
rshaw(at)ralinashawpr(dot)com